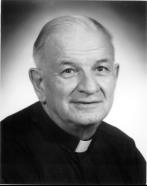 Father Charles T. Huegelmeyer, MM
Born: November 30, 1924
Ordained: June 9, 1951
Died: May 31, 2015
Father Charles T. Huegelmeyer died on May 31, 2015 at St. Teresa's Residence, Maryknoll, New York. He was 90 years old and a Maryknoll priest for 63 years.
Charles Thomas Huegelmeyer was born in Baltimore, Maryland on November 30, 1924, son of Charles and Esther Reilly Huegelmeyer. He was the next to the youngest of three boys and two girls. His education began in St. Mary's Parochial School. Then he enrolled in St. Charles College, Catonsvi11e, Maryland, a junior seminary run by the Sulpician Fathers. He entered Maryknoll Seminary, New York, on August 1, 1944, received his Bachelor of Arts degree in Philosophy in 1950, and an M.A. in Religious Education. He was ordained a priest at Maryknoll Seminary on June 9, 1951.
After ordination, Father Huegelmeyer was assigned to Catholic University in Washington, DC to study for a master's degree in Latin and Greek. In June 1952 he was assigned to the Maryknoll faculty at the Venard Minor Seminary in Clarks Summit, Pennsylvania and, during this time, served one year as business manager. In June 1954 he was assigned to special studies at the Catholic University of America to work toward a Doctorate in the Classics. He was assigned in 1957 to the faculty at Maryknoll College, Glen Ellyn, Illinois to teach Latin and Greek and to serve as Academic Dean. He was always interested in updating his knowledge and engaged in several courses in the classics and linguistics, as well as workshops in education, theology and counseling. In 1963 he received his Doctorate of Philosophy in Classical Languages from the Catholic University.
On April 4, 1962 he was assigned to the Maryknoll Mission Region in Guatemala. In 1965 he was recalled to the United States to serve again at Glen Ellyn. When Maryknoll College was closed in 1971 Father Huegelmeyer returned to Central America. There he served in several parishes in Guatemala and El Salvador, as well as serving a three-year term as Regional Coordinator. Between 1978 and 1980 he worked in two rural parishes, one of which was in Chalatenango, El Salvador. In February 1980 he was assigned to serve as Treasurer General of Maryknoll. After a six-year term as Treasurer, he returned to Central America where he was assigned to the parish of San Luis Rey, Peten, Guatemala.
Speaking about life in Central America Father Huegelmeyer said, "We have lively, out-spoken communities of committed people, whose record is famous. In Guatemala, especially in the Maryknoll world of yesteryear, it is largely an Indian tale. It's a great history that the people have made here, and it's a good feeling to have been some kind of a witness to it. San Luis in the Peten is the only Maryknoll parish at the present time in this part of Guatemala; other parishes have been turned over to the local church. The population is mainly Indian. The work is what you would expect in a rural area with small farmers, most of them illiterate, and scattered all over the map in small villages and hamlets. But again, there are hundreds of people working in the communities as catechists, health promoters, literacy teachers, and others teaching doctrine and what have you." In his Peten parish visiting the villages was the order of almost every day. He had some ninety places to visit, all with their own chapels. In 1990 he had, for the third year running, more than a thousand baptisms. "There is a lot of life out there and real dedication. The Indians have no fear of the future."
In June of 1992 Father Huegelmeyer was assigned to Honduras to work in the parish of Sagrado Corazon in San Pedro Sula. In April 1994 Father was assigned to the United States and began work in the Society Archives at Maryknoll, New York. He served in this capacity for three years and in June 1997, was assigned back to Sagrado Corazon in Honduras. Father Huegelmeyer returned to Maryknoll Center in 1999 and in June 2000, became a member of the Retirement Community (now Senior Missioner Community). In 2007, he moved to St. Teresa's Residence.
A Rosary and wake service was held at 4:00 p.m. on June 8, 2015 at St. Teresa's. The body was received at the Maryknoll Society Center at 9:30 a.m., June 9, 2015. Fr. Huegelmeyer's family received condolences and prayers until 10:45 a.m. in the Lady Chapel. The biography was read by Father Richard Callahan. Mass of Christian Burial was concelebrated in Queen of Apostles Chapel on June 9, 2015 at 11:00 a.m. Father Joseph LaMar was Principal Celebrant and homilist. Burial followed in Maryknoll Society Cemetery.