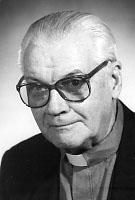 Father Christopher W. Gibbons, MM
Born: December 25, 1916
Ordained: June 10, 1945
Died: March 31, 2008
Father Christopher Gibbons died on March 31, 2008 at St. Teresa's Residence, Maryknoll, New York. He was 91 years old and a Maryknoll priest for 62 years.
Christopher William Gibbons was born Christmas Day, 1916, in New York City, New York, the son of William and Theresa Scanlon Gibbons. He had three brothers and one sister. His early schooling was at St. Agnes grade and high schools in Manhattan. He went on to Cathedral College in New York City and to St. Peter's College, Jersey City, New Jersey, where he received a Bachelor of Arts degree in 1940. He attributed his mission vocation to the Christian training he received at home and in the parochial schools under the direction of the Marist Brothers and excellent lay teachers. He entered Maryknoll in August 1940 at the Maryknoll Apostolic College (the Venard) in Clarks Summit, Pennsylvania. He was ordained on June 10, 1945, at Maryknoll, New York.
After ordination, Father Gibbons was assigned to the Diocese of Puno in the Maryknoll Mission in Peru. After six months, he was transferred to the Maryknoll Mission in the Diocese of Guayaquil, Ecuador. He worked first in the town of Quevedo and then in Mocache. In 1946 he was named Pastor of Our Lady of Mt. Carmel Parish in the newly erected Vicariate of Los Rios, where he remained until the mission was closed in 1948.
Father Gibbons was then assigned to the Pando Vicariate, situated in the Amazon jungle in the northern part of the Maryknoll Bolivia Mission. He worked in various towns of the Vicariate as well as visiting villages on the shores of the major rivers in the area, providing pastoral and medical services. In 1961, he was assigned to the parish in Warnes, in the Diocese of Santa Cruz, and in 1965 he was transferred to the Shrine of Our Lady of Cotoca. He remained at the Shrine, serving not only the people of the town in their pastoral needs but also the thousands of pilgrims who came to the Shrine from all parts of Bolivia.
Although Father Gibbons entered the Special Society Unit in 1982, he continued living in Santa Cruz, Bolivia until 1984 when he returned to the United States. In 1988 he was able to return to San Roque Parish in Santa Cruz until 1991 when he moved to St. Teresa's Residence. For many years while residing at St. Teresa's, Father Gibbons assisted in distributing communion to the other residents and was a vital member of the Maryknoll choir.
Father Gibbons was known throughout his life as a rather shy person, dedicated to his mission-calling and his work. During his latter years at St. Teresa's Residence, he was a quiet presence and had a pleasant word for everyone.
Wake services were held at 4:30 p.m. on April 3, 2008 at St. Teresa's, and at 7:30 p.m. in Queen of Apostles Chapel at Maryknoll Center where Brother David McKenna officiated and Father Carmen La Mazza read the biography. Mass of Christian Burial was concelebrated in Queen of Apostles Chapel on April 4, 2008 at 11:00 a.m. Father William Coy was Principal Celebrant and Father Edward Walck, homilist. Burial followed in Maryknoll Society Cemetery with Father Francis McGourn conducting the graveside service.