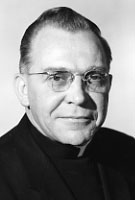 Father Clarence J. Witte, MM
Born: June 13, 1910
Ordained: June 16, 1935
Died: April 23, 2001
Father Clarence Joseph Witte died on Monday, April 23, 2001 at Phelps Memorial Hospital, Sleepy Hollow, New York. He was 90 years old and a Maryknoll priest for 65 years.
Clarence was born June 13, 1910, in Richmond, Indiana, son of William and Mary Horstman Witte. He had three brothers and two sisters, one of whom was a Maryknoll Sister and the other a Franciscan Sister. He attended St. Andrews Parochial School and then graduated from St. Meinrad Preparatory Seminary in Indiana in 1929 and entered Maryknoll in September of that year. Father Witte was ordained a Maryknoll priest on June 16, 1935.
Father Witte began his overseas mission life in Otsu, Japan, immediately following his ordination. After two years of language study, he was named pastor of a small parish in the city of Hikone, arriving there the day after the church burned to the ground. The first wedding he performed was the first such Catholic ceremony in the history of the city. In those pre-World War II days, all foreigners in Japan were subjected to frequent questioning and investigations. At the outbreak of the Second World War, Father Witte, along with other Maryknollers, was interned by the Japanese authorities and was repatriated to the United States after seven months of internment.
In late 1942, Father Witte and Father Arthur Allie, a classmate, were assigned to Guatemala as the first two Maryknollers to take up missionary work in that country. Shortly after arriving in Guatemala, these two priests were commissioned by the Apostolic Nuncio to travel all over the country to select an area suitable for a missionary apostolate. They chose the Department of Huehuetenango, which later became a diocese. The two pioneers had the spiritual care of the whole Department, Father Wife in the north and Father Allie in the south, until 1944 when three other Maryknoll priests joined them.
In 1947, Father Witte was reassigned to Japan and returned to his pre-war parish in Hikone. In 1950 he was transferred to a new parish in the Fushimi section of the city of Kyoto and was also named Second Consultor to the Society Superior. In 1955 he was appointed Society Superior for the North Asia Region, which comprised Japan and Korea. After the Fourth General Chapter in 1956 changed the administrative structure of the Mission Regions and eliminated the office of Society Superior, Father Witte was named First Consultor to the Regional Superior and Regional Vicar of the Tomakomai area of Hokkaido. In 1958, he was appointed to the General Council as an Assistant General. In 1961, Father Witte was elected Regional Superior of Japan. After his term as Regional Superior, he was assigned to work in Bolivia with the immigrants from Okinawa.
When the need for a Japanese-speaking missioner in the Okinawa Colonies of Bolivia did not prove to be as great as had been expected, Father Witte was assigned as pastor of Maryknoll's Japanese Mission in Los Angeles in 1968. He returned to Japan in 1976 as pastor of Infant Jesus Parish in the city of Ueno in Mie-ken, Kyoto Diocese. From April 1990 until March 2001 Father Witte was serving in the Diocese of Kyoto, Japan as part of a team of religious, ministering to Catholics in the parishes of Nabari, Tsu and Ueno. In November 2000 Father Witte published his autobiography, "What It's All About, Quod Est Demonstrandum", recounting his long and fruitful mission career.
Wake services were held on Wednesday, April 25, 2001 at 7:00PM at St. Teresa's, and at 7:30 p.m. at Queen of Apostles Chapel at Maxyknoll Center where Father John F. Felago officiated. Mass of Christian Burial was concelebrated at Queen of Apostles Chapel on Thursday, April 26,2001 at 11:00 a.m. Father Francis A. Diffley was Principal Celebrant and Father John McAuley was homilist. Burial followed at Maryknoll Center Cemeteiy with Father Jeremiah Burr conducting the graveside service.