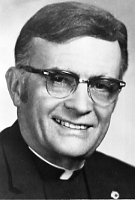 Father Clement P. Boesflug, MM
Born: January 8, 1907
Ordained: June 17, 1934
Died: October 18, 1995
Father Clement P. Boesfiug died at St. Teresa's Residence at 2:15 a.m. on Wednesday, October 18,1995. He was 88 years old and a Maryknoll priest for 61 years.
Clement Peter Boesfiug was born in Bismarck, North Dakota, on January 8, 1907, son of Mathias and Philomena Neubauer Boesflug. He had one brother and four sisters. His early education took place in St. Mary's Grade and High School in Bismarck. On June 30, 1926, he applied for admittance to Maryknoll Preparatory College (Venard), in Clarks Summit, Pennsylvania. On the Superior General's recommendation, however, he went instead to the Maryknoll Preparatory College in Los Altos, California, which received its first class of seminarians that year, where he arrived on September 6th. He was ordained a priest at Maryknoll Seminary in Ossining, New York, on June 17, 1934.
Fr. Boesflug spent his missionary life with the Japanese people, both in parishes in Japan and with Japanese Americans in the western part of the United States.
After ordination, Father Boesflug was assigned to the Maryknoll mission in Kyoto, Japan. He served there until November 1938 when he was transferred as pastor to the Maryknoll Japanese mission parish in Seattle, Washington. The next year, he was moved to the St. Francis Xavier Japanese Mission in Los Angeles, California. All during World War II he served the Japanese people interned in Relocation Camps in Idaho and Arizona. In 1942 and 1943 Fr. Boesflug lived in Parker, Arizona, while working with the people in the Camps in Poston and Rivers. He was a hard working, zealous missioner among the internees and developed a genuine love for them.
After the war, Father Boesflug was again assigned to Kyoto, Japan, on April 29, 1947. While assigned as pastor of the new Catholic Parish in Sakamoto, he began what was known as the Village Apostolate. Invited by principals of the villages, he visited them twice a month to give talks on Christianity. When a number of people had been received into the Faith through Baptism, a small Chapel would be built for the village. This type of apostolate took place in Aoyagi, Heiwa Mura, Aiba and Takashima, among other places. His examples of kindness, visiting the sick and sharing his food with the poor, greatly impressed the people of the area.
Fr. Boesflug remained in Sakamoto until November of 1951, when he was recalled to the United States. He was again assigned to the Maryknoll Japanese Mission in Los Angeles and served there for 20 years. In 1954, he joined the Japanese American Citizens League, a cultural, fraternal group of Americans of Japanese ancestry. The League conducts programs and activities in various communities throughout the United States, promoting good citizenship, especially for Japanese who came from Japan. In 1963, he was elected president of the League's Los Angeles Downtown Chapter where he was known for his youthful enthusiasm and boundless energy. He also joined the Japanese American Optimist Club and served as District Chaplain for the Club for 8 years.
Father Boesflug was transferred in 1967 to the Venard in Pennsylvania. From there, he helped out in various parishes in the Philadelphia area, where Archdiocesan officials expressed their gratitude and appreciation to Maryknoll for his assistance to them.
In August of 1970, he was assigned to the Minneapolis Development House for promotion work in that area and later to the Los Angeles Development House. He was enrolled in the Special Society Unit on December 1, 1974 with residence in Seattle, Washington, where he helped out in various parishes. In 1984, he moved to Maryknoll Residence at Los Altos, California. After the Lama Praedia earthquake severely damage the Residence building in October 1989, Father Boesflug was transferred to St. Teresa's Residence at Maryknoll, New York, where he resided until his death.
Wake services were held on Thursday, October 19, 1995 at St. Teresa's Residence Chapel at 7:00 p.m. and at the Queen of Apostles Chapel at Maryknoll Center, New York, at 7:30 p.m, with Fr. Arthur Wille officiating. Mass of Christian Burial was concelebrated on Friday, October 20th at 11:30 a.m. in Our Lady Queen of Apostles Chapel. The Principal Celebrant was Father Robert Reiley. Fr. Emile Dumas was the homilist. Bro. Wayne Fitzpatrick officiated at the interment which followed at Maryknoll Cemetery.