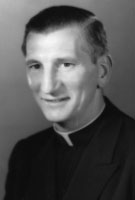 Father Cletus J. Schroering, MM
Born: September 10, 1920
Ordained: June 12, 1948
Died: October 6, 1988
Father Cletus Joseph Schroering died in his Karasaki church parish on October 6, 1988. He was 67 years of age.
Cletus was born on September 10, 1921 in Jasper, Indiana, son of Francis and Mary (Beckman) Schroering. He had 5 brothers and one sister. Two of his brothers became Diocesan priests in the Evansville Diocese. He attended St. Joseph's Parochial School and was graduated from the Jasper Public High School in 1938. He wrote that he was 16 years old when finishing high school and decided to become a Maryknoll priest. He entered Clarks Summit the same year. He was a quiet, studious person, an excellent student and well liked by both faculty and fellows. He was ordained June 12, 1948.
He was assigned to Kyoto, Japan and served the people for forty years. He gained an excellent command of both written and spoken Japanese and was an avid reader of Japanese publications. He is known as the only Maryknoller who read all the documents of the 2nd Vatican Council written in Japanese. After language school he was assigned as assistant pastor in Otsu-Shiga-ken and was there for three years. He soon gained the love of the people and the confidence of his confreres. His next assignment was as pastor of the Takano parish in Kyoto City where he remained until he was appointed Rector of the Villa Maria Junior Seminary in Kyoto in September of 1957.
After a furlough in the States in 1963 he served as secretary to Archbishop Cagna, Apostolic Nuncio in Tokyo. He fitted in very well there and enjoyed the work and quiet atmosphere of the Nunciatura. During that time he fell ill and was hospitalized for a brief time. In 1968 he was made pastor of the Kinugasa Parish, Kyoto City. Later he was transferred to Shiga-ken and after that to East Muroran in Hokkaido for a number of years.
For many years Father Schroering suffered health problems but his superior noted that he was able to function well in his small one-man parish, his last assignment, in Karasaki, near Lake Biwa where he died suddenly.
There is little doubt that Father Cletus was a happy priest in his missionary vocation. Two of his confreres who lived with him for years reflected that he went about his ministry in a quiet, unassuming way, faithfully fulfilling his duties and meticulous about preparing his sermons. He was always a gentleman and would go out of his way not to give offence. He was sensitive about the feelings and needs of others. As pastor of Karasaki he had charge of the Lake Biwa Rest House and proved himself a thoughtful host. He had a fine sense of humor and was a great bridge player. He will be missed by people in all the parishes he worked in and Maryknollers who were close friends.
The Wake Service was held in the Karasaki Church on October 7, with burial after the concelebrated Mass on the 8th. At Maryknoll Center a memorial Mass was offered on October 10th.