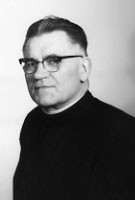 Father Constantine F. Wolott, MM
Born: October 28, 1905
Ordained: June 14, 1938
Died: October 22, 1975
Father Constantine F. Wolott died at 4 p. m. today (October 22, 1975) at Phelps Memorial Hospital in North Tarrytown.
Father Wolott, whose family name was changed from Wolotkiewicz in 1946, was born in Glassport, Pennsylvania, October 28, 1905. Even though he had no high school training, he was determined to make the grade when he entered Maryknoll in October 1928. He studied at the Venard, Bedford, and Maryknoll, and was ordained June 14, 1938. Assigned to Kweilin, South China, in 1938, he remained there throughout the war period. Briefly confined by the Communists in China in November 1950, he reached Hong Kong in April 1951. From 1951-53, he served as a chaplain at Thule, Greenland, with North Atlantic Constructors. He was assigned to the then Formosa Region in April 1953, but had to return to the United States on sick leave in July 1965. After extensive medical treatment in different parts of the U.S. and a period at the Venard, he became one of the pioneer residents at St. Teresas in October 1968.
Connie was an extremely zealous missionary, described as "one of our hardest workers," who devoted every ounce of his energy and every minute of his time to his work. He took pride in the front stone walls he had helped to construct at Maryknoll during his student years. He did fine work in Kweilin, and later in Taiwan, built up the parish and a beautiful church in Tsao Tun, where there was not a single Catholic when he arrived. He wrote in the mid-50's, "We are getting invites to open catechumenates in more places than we can accommodate with teachers or catechists. I"m proud of these people. I hope their spirit continues and grows." He wanted very much to return to Taiwan, but accepted his confine ment to a wheelchair since 1968 gracefully and cheerfully.
A vigil service was held for Father Wolott at 7:30 p.m. on Friday, October 24. A Mass of the Resurrection was celebrated at 11 a. m. on Saturday, October 25, in the Seminary chapel, with Father Wolott's classmate, Father Francis Daubert, as the homilist.