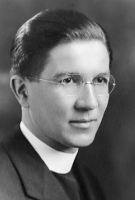 Father Cyril J. Kramar, MM
Born: September 24, 1899
Ordained: June 17, 1934
Died: March 30, 1968
Cyril J. Kramar was born in Girard, Ohio on September 24, 1899. His early education was received in and around Youngstown, Ohio. He attended Hall's Business College for a short time and worked for five years as a clerk for the Carnegie Steel Company. He then entered the American Academy of Dramatic Arts in New York City. It was while he was accompanying a guest speaker to Maryknoll that he first learned of the Society. Later he applied for admission and was accepted in September of 1924.
Father Kramar was ordained on June 17, 1934 and departed for Peng Yang, Korea the same year. He returned home on the Gripsholm in 1942. Later that same year he was assigned to Puno, Peru and in 1943 was transferred to Cochabamba, Bolivia. He was recalled for sick leave in 1946.
While in the States, Father Kramar worked as Procurator and Vice-Rector at Brookline, on the faculty at Glen Ellyn from 1951 to 1956, at which time he was assigned to the major seminary.
Father died March 30, 1968 in Phelps Memorial Hospital after a long illness.
Funeral Mass and burial took place at Maryknoll, N.Y. on April 2, 1968. Father Patrick Toomey was principal celebrant and Father Vincent P. Mallon was the eulogist.