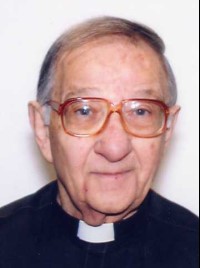 Father Daniel A. Lanza, MM
Born: April 3, 1930
Ordained: June 13, 1959
Died: February 4, 2021
Father Daniel A. Lanza died on February 4, 2021 at Alpine Rehabilitation and Nursing Center in Little Falls, New York.  He was 90 years old and a Maryknoll priest for 61 years.
Daniel Anthony Lanza was born in Little Falls, New York on April 3, 1930 to Anthony and Cecelia Ruggiero Lanza.  He was one of six children.  His early schooling was at Jefferson Street Grammar School and Little Falls High School.  After graduation he entered Maryknoll in September 1949 at Brookline, Massachusetts.  Father Lanza was ordained at Maryknoll, New York on June 13, 1959 and assigned to the Guatemala Region.
After language studies, Father Lanza worked in Guatemala as Assistant Pastor in San Antonio Huista parish, then as Pastor at San Sebastian parish in Huehuetenango for many years, and finally in San Francisco de Asis in Guatemala City.  He was assigned to the United States in March 1980 and worked in various parishes, before being assigned back to Guatemala in September 1982.  Father Lanza began work in Parroquia San Pedro Martir in the Peten region of Guatemala and later moved to Guatemala City.
In 1987 Father Lanza returned to parish work in the United States and was formally assigned to the United States Region as of October 1, 1989.  He joined the Retirement Community (now Senior Missioner Community) in January of 2002.  He worked for many years in the four parishes of Little Falls, New York. Father Lanza took up residence in the Alpine Rehabilitation and Nursing Center in Little Falls in 2019.
In keeping with Father Lanza's wishes, he was cremated. A private Memorial Mass is to be held at a later date in East Herkimer. His remains will be interred with his parents in St. Mary's Cemetery, East Herkimer, New York.
A Memorial Mass was held on February 11, 2021 at 11:00 a.m. in the Queen of Apostles Chapel.  Father David La Buda was Principal Celebrant and homilist. Brother John Blazo read the biography and Father Joseph La Mar read the Oath.