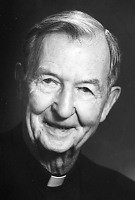 Father Daniel D. Dolan
Born: July 2, 1921
Ordained: June 12, 1954
Died: April 24, 2014
Father Daniel D. Dolan died on April 24, 2014 at Phelps Memorial Hospital, Sleepy Hollow NY.  He was 92 years old and a Maryknoll priest for 59 years.
Daniel David Dolan was born on July 2, 1921 in Chicago, Illinois, son of Charles and Frances Moore Dolan.  He had two brothers and one sister.  His early education took place in La Grange, Illinois attending St. Francis Xavier Grade School and graduating from Lyons Township High School.  After graduation in June 1938, he entered Lyons Township Junior College and in the fall of 1940 transferred to the University of Illinois at Urbana-Champaign, and graduated in June 1942 with a Bachelor of Science degree in Accountancy.  In November 1942 he enlisted in the U.S. Naval Air Corps and served in combat duty as a navigator and bombardier in the Central Pacific Theater for nine months.  He proceeded from combat duty to flight training, won his pilot wings and was assigned to a Corvair Fighter Squadron aboard the Carrier USS Randolph.  He was awarded the Air Medal, and his unit was awarded the Presidential Citation.  Father Dolan described himself as the "Ace of the Base" while in the service.  After being honorably discharged as a Lieutenant Senior Grade on July 24, 1947, he acquired a civilian pilot's license to keep alive his flying ambitions.  On September 9, 1947 he entered Maryknoll Apostolic College (Venard), Clarks Summit, Pennsylvania, for special Latin Studies and was ordained a Maryknoll priest in Annunciation Chapel at the Maryknoll Sisters Motherhouse on June 12, 1954.
After ordination, Father Dolan was assigned to the Maryknoll Mission in Taiwan.  He studied the Hakka language for ten months in Hong Kong and then moved to Miaoli Prefecture in Taiwan.  For six years he served as an Assistant Pastor in the Tung Lo, Towfen, Ta Hu and Cholan Missions, covering for the pastors who were sick or on home leave.
While on home furlough in 1960, Father Dolan was temporarily assigned to the Treasury Department for a year, and in March 1962 he was appointed to the Controller's Department.  He served in this department for eight years, during which time he served as Controller General and totally reorganized the operation of the Controller's Office.  He also served as the Field Representative of the Controller's Department in Maryknoll's Mission Regions.  This entailed visiting the Mission Regions to explain the newly approved accounting procedures and to assist in their implementation.
On July 21, 1970 Father Dolan was appointed Assistant to the Superior of St. Teresa's Residence.  In March 1973 he took a three-month Clinical Pastoral Education Course at Westboro State Hospital in Westboro, Massachusetts, and another at Grafton State Hospital, North Grafton, Massachusetts, after which in September 1973 he was appointed Director of the Maryknoll Residence in Mountain View, California.
In August 1976 Father Dolan was assigned back to the Maryknoll Mission Region in Taiwan.  He studied the Mandarin language in Taichung and was the Center House Director as well as Financial Assistant to the Regional Council.  In 1979 he was assigned as Pastor in Tahu, Miaoli Deanery, where he labored for the next sixteen years, concentrating his efforts on the Aborigines.  During this time he worked on translating scriptures and religious teachings into the oral traditions of the aboriginal tribes.
On December 2, 1991, Father was appointed Fourth Regional Assistant for the Taiwan region.  On July 1, 1996 Father was assigned to the United States Region and the Mission Promotion Department, working in Philadelphia, Pennsylvania and Washington, DC until his move to the Society Center in 2000, where he continued his promotion work. Although retired in May 2003, for many years, he continued doing Mission Promotion work part time.  In April 2013, Father Dolan was assigned to the Retirement Community and took up residence at Mission St. Teresa.
Wake services were held at 4:30 p.m. on Monday, April 28, 2014 at St. Teresa's, and at 7:30 p.m. in Queen of Apostles Chapel at Maryknoll Center where Father Ernest Lukaschek officiated and Father John J. Casey read the biography.  Mass of Christian Burial was concelebrated in Queen of Apostles Chapel on Tuesday, April 29, 2014 at 11:00 a.m.   Father Emile Dumas was Principal Celebrant and Father John Moran was the homilist.  Burial followed in Maryknoll Society Cemetery with Father James Lynch conducting the graveside service.