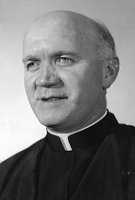 Father Daniel F. Lenahan, MM
Born: July 23, 1911
Ordained: June 11, 1939
Died: June 1, 1977
Father Daniel Francis Lenahan died in Honolulu, Hawaii on Wednesday afternoon, June 1.
Ordained on June 11, 1939, Father Lenahan was assigned to our Korea Region He returned to the U. S. on the Gripsholm and then served as Military Chaplain in the U. S. Army. After some Society assignments in the U. S., Father carried out assignments in Guatemala and Africa. Since December 1959 Father Lenahan has worked in our Hawaii Region.
He was born in Brooklyn, New York, July 23, 1911. His desire to serve God as a priest was nurtured during his early years by a devout family life and by his exemplary parish priest. While still in grammar school he was inspired by the life of St. Francis Xavier to become a missioner in the Orient. Through his reading of The Field Afar he learned about Maryknoll. In September of 1926 he entered the Venard, our preparatory school at Clarks Summit, Pennsylvania.
The Funeral Mass was held at St. Philomena's Church in Honolulu on Monday, June 6. Burial was at Diamond Head Cemetery. Mass of the Resurrection was celebrated at Maryknoll, New York on Monday, June 6 at Noon in the Society Chapel.