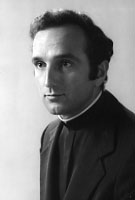 Father Daniel F. O'Brien, MM   
Born: April 30, 1946
Ordained: June 9, 1951
Died: November 11, 1991
Father Daniel Francis O'Brien died on November 11, 1991 in Seattle, Washington. He was 45 years old and a Maryknoll priest for 13 years. He lived at the Center from February to July, 1991. He then moved to Seattle to be near his family and friends.
Father O'Brien was born on April 30, 1946 in Everett, Washington to Frank B. O'Brien and Ilse Zingler, the youngest of 3 children.
Father grew up in Everett. He attended Shoreline Community College in Seattle where he obtained an Associate Degree in Applied Arts and Science. After a short period in the Diocesan Minor Seminary he entered military service until 1969. He then began studying toward an Civil Engineering Degree but shortly after, following up an interest in the missionary priesthood, he contacted the Seattle House. He participated in the Orientation Course at Hingham in 1971. To complete his college education he went to the University of San Francisco, concentrating on Sociology and Anthropology. He obtained his Master of Divinity degree at the Center in 1973. In 1975 he began his Overseas Training Program in Shinyanga. Returning to Maryknoll he received ordination as a priest in 1978.
Father Daniel's first assignment was to what was then the Society's newest mission, Zambia. In 1981 he returned to Seattle with the intent of developing skills in psychological counseling for youth. Beginning in 1982 he served as Chaplain for the Hospice of Seattle for the terminally ill. In 1987 he returned to Africa on Assignment to Kenya and in 1990 was reassigned to the U.S. Region.
During Daniel's Orientation Year it was observed that his "easy sociability and many talents continue to be appreciated as part of the life context here. He is a generous, fun-loving, lively personality, relating well to all." During his language studies he wrote that he was continually amazed at how well the Gospel seems to fit into the cultural context here. In his OTP he worked with the people of Ndoleji Parish, Shinyanga, and addressed himself to the further development of community life and of religious leaders. Like many others at similar periods in their lives, he found that much of what he was involved in was paradoxical – both confusing and at the same time happy. He feared at times that he would never feel 'at home' and yet he felt that he would want to spend the rest of his life with the people there. At the end of his OTP his advancement board observed that the experience has given Dan a new depth wherein he discovered his ability to establish rapport with others, to build friendly relationships and to work productively with people of another language add culture. His own statement that "priesthood is not cultic, it defines your whole life" summed up his belief that the missionary should be involved in total human development.
In his assignment to Zambia, Father Daniel shared pastoral responsibilities with two Polish priests in the town of Kasempa, 4 hours outside of Solwezi,where other members of the Maryknoll Unit were working. He was able to have a strong influence on the direction of the parish programs, using a more missionary approach than the two others were accustomed to.
After his return to the U.S. in 1981, he took up work as chaplain at the Hospice in Seattle where he found his work among dying cancer patients and their families to be very rewarding. The Directors of the Hospice repeatedly expressed their appreciation for his presence and work.
The funeral Mass was said at St. John's Church in Mukilteo, Washington with burial in the family plot. A memorial service was held at Maryknoll Center with Fr. Thesing at Celebrant.