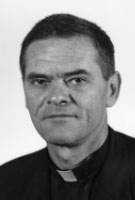 Father Daniel J. Schneider, MM
Born: December 18, 1917
Ordained: June 10, 1945
Died: December 5, 2009
Father J. Daniel Schneider died at St. Teresa's Residence, Maryknoll, New York on December 5, 2009. He would have been 92 on December 18 and was a Maryknoll priest for 64 years.
Joseph Daniel Schneider was born in Columbus, Ohio on December 18, 1917, son of Philip and Nora O'Shaughnessy Schneider. He had five brothers and three sisters. He graduated from St. Mary's High School in Rutherford, New Jersey in 1935 and received a B.S. in Business Administration from Fordham University in the Bronx in 1939, with a double major in Scholastic Philosophy and Banking and Finance. He entered Maryknoll in September of that year.
Following his ordination on June 10, 1945, Father Schneider was assigned to work with The Field Afar, the original name of Maryknoll magazine. He was Business Manager of the magazine until 1949, when he was named an assistant in the Promotion Department. During the time he worked on the magazine, the circulation increased from around 150,000 to nearly 500,000.
In 1955 Father Schneider was assigned to South Korea, contingent upon the successful completion of a year of Korean Language study at the Institute of Oriental Studies at Yale University. He went to South Korea the following year and did parish work in remote areas of the country until being named Maryknoll Public Relations Director in 1958. He served in that capacity until 1962 when he again was assigned to work in South Korea. In 1967 Father Schneider was named Regional Superior for Korea, serving in that capacity until 1972.
Father Schneider returned to the United States in 1972 and did development work in St. Louis, Missouri. In 1974 he began parish work at St. Elizabeth Catholic Church in Kansas City, Missouri. His work there extended far beyond the parish, ministering as a team priest for Catholic Marriage Encounter and Catholic Engaged Encounter, as well as Spiritual Director for 15 years to the Korean Catholic Community of the Greater Kansas City area, first at St. Elizabeth Church and later at Holy Cross Catholic Church, Overland Park, Kansas.
Father Schneider joined the Special Society Unit in January 1984, but continued to work part-time, including teaching a 5 grade religion class twice a week with emphasis on Bible study and prayerful meditation on the scriptures. In February 2001 he joined the Retirement Community with residence at Maryknoll, New York where he enjoyed praying and reading history as well as working on his memoirs.
Wake services were held at 4:30 p.m. on December 10, 2009 at St. Teresa's and at 7:30 p.m. in Queen of Apostles Chapel at Maryknoll Center where Father Michael Zunno officiated and Father Raymond Sullivan read the biography. Mass of Christian Burial was concelebrated in Queen of Apostles Chapel on December 11, 2009 at 10:30 a.m. Father James Gilligan was Principal Celebrant and Father Thomas Ahearn, homilist. Burial followed in Maryknoll Society Cemetery.