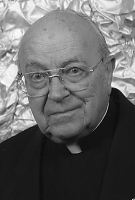 Father Daniel J. Sherman, MM
Born: April 11, 1919
Ordained: June 15, 1947
Died: March 18, 2013
Father Daniel J. Sherman died March 18, 2013 at Phelps Memorial Hospital, Sleepy Hollow, New York. He was 93 years old and was a Maryknoll priest for 65 years.
Daniel Joseph Sherman was born on April 11, 1919, in Milwaukee, Wisconsin, son of John Joseph and Julia Kosiedowski Sherman. He had two elder brothers, Erwin and Raymond, and has a younger sister, Joyce. Father Sherman entered Maryknoll from St. Catherine's Church in Milwaukee in September 1938.
After ordination at Maryknoll on June 15, 1947, he was assigned to Kongmoon, China, where he taught Latin, Music, Mathematics, and English at the diocesan junior seminary. He also spent some time working with Father Joseph Sweeney, M.M. at the Ngaimoon leper asylum. After a two-year house arrest by the Communists in China, he was expelled in 1951. Father Sherman felt that this time from September 1949 to August 1951, when he and his fellow-missioners were harassed and persecuted, was the most memorable period in his mission career, because he felt God's protection and encouragement through it all. After that he spent a year working at an English school in Hong Kong, and then he was transferred to the Japan Region in 1952 where he spent 30 years mainly doing pastoral work in Kyoto, Hikone (Shiga Prefecture) and Ueno City (Mie Prefecture). In the 1960s, he spent three years as Local Superior of the Maryknoll House in Tokyo.
Father Sherman returned to the United States in 1976 to take care of his aged mother. She lived for another 10 years under his care, dying in 1986 at the age of 98. While taking care of his mother, he assisted at a nearby parish and did volunteer work for the St. Vincent de Paul Society.
Father Sherman was assigned to the Society Special Unit on April 1, 1989. In 2001 he joined the Retirement Community, and he continued his ministry at the historic Old St. Mary's Parish in Milwaukee and at Aquinas Academy in Menomonee Falls, Wisconsin. He also served the official Milwaukee Archdiocesan Tridentine Community at St. Stanislaus Church. He spent two summers tending the Maryknoll House of Prayer in Lourdes, France. In January, 2012 Father Sherman left Wisconsin and moved to Mission St. Teresa's.
Wake services were held at 4:30 p.m. on March 21, 2013 at St. Teresa's, and at 7:30 p.m. in Queen of Apostles Chapel at Maryknoll Center where Father Ernest Lukaschek officiated and Brother Thomas Hickey read the biography. Mass of Christian Burial was concelebrated in Queen of Apostles Chapel on March 22, 2013 at 11:00 a.m. Father Lukaschek was Principal Celebrant and homilist. Burial followed in Maryknoll Society Cemetery with Father Lukaschek conducting the graveside service. A Memorial Service was held in Milwaukee, Wisconsin.