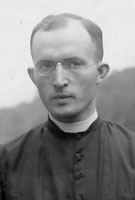 Father Daniel L. McShane, MM
Born: September 13, 1888
Ordained: November 10, 1914
Died: June 4, 1927
Daniel L. McShane, the first priest to be ordained for Maryknoll, was born September 13, 1888 the youngest of six children. His brother's ordination in 1904 marked the beginning of his own vocation. After completing high school he began his seminary studies at St. Joseph's in Collegeville, Indiana, and from there he went to St. Mary's Seminary in Baltimore.
It was at St. Mary's Seminary that Daniel, after hearing the appeal of a St. Mary's alumnus, Father Price, turned his interest to the foreign missions. With the encouragement of the Sulpician Fathers Dyer and Bruneau he transferred to Maryknoll in 1912. He was the fourth of the Society's six pioneer students. He commuted every day to complete his Theology studies at New York's St. Joseph Seminary, Dunwoodie. As a Deacon he served as director of Maryknoll's recently established junior seminary in Scranton. Father McShane was ordained by Cardinal Farley in St. Patrick's Cathedral on November 10, 1914.
Following ordination Fr. McShane served as Procurator at the Center; three years later he was a member of the General Council. Subsequently he inaugurated the San Francisco Procure where he was in charge for two years until his mission assignment as head of the second Departure Group in 1919.
In China Father's first assignment was to assist Fr. Meyer at Tungchen. The following year he was named Pastor of Loting, the mission to which he devoted the remainder of his life. Here he set up an orphanage for abandoned children, carrying out apostolate of the Holy Childhood. With little funds to rely on, and much local opposition, Fr. McShane suffered many heart-breaking setbacks. However, besides being a witness to heroic Christian charity, his labors resulted in the baptism of 2,483 dying babies.
It was on May 14, 1927 that an infant, dying of smallpox, was brought to Father McShane. Father himself contracted the disease while baptizing the child. Near the end of the month the symptoms were unmistakeable and he was taken under the care of Doctor Dickson, an American Protestant doctor in the area. A telegram was sent to Sancian Island where most of the China missioners were attending the consecration of Bishop James E. Walsh. Father Rauschenbach hurried back overland to bring the dying missioner the Last Sacraments but did not reach him in time. Father McShane breathed his last on June 4, 1927, at the age of thirty-nine. His body was laid to rest beneath a large white cross in front of the rectory, the first Maryknoll priest, after Father Price, to be buried in China.