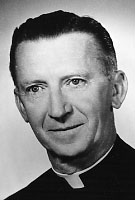 Father David I. Walsh, MM
Born: March 28, 1915
Ordained: September 8, 1933
Died: October 13, 1999
Father David I. Walsh died on the morning of October 13, 1999 at St. Teresa's Residence, Maryknoll, New York. He was 84 years of age and a Maryknoll Priest for 57 years.
David was born in New Bedford, Massachusetts, on March 28, 1915, only son of Patrick and Mary Walsh. He attended St. Kilian's Parochial School and graduated from Holy Family High School on June 18, 1933. He attended Maryknoll Apostolic College (Venard), Clarks Summit, Pennsylvania. on September 8, 1933 and was ordained a priest at Maryknoll Seminary in New York on June 21, 1942.
After ordination, Father Walsh was among the first group of newly ordained assigned to work in a South American diocese. Upon his arrival in Santa Cruz, Bolivia on October 31, 1942, he was assigned with Father August Kircher to the parish of The Immaculate Conception which is the Basilica of Our Lady of Cotoca, a highly-revered shrine in the lowland area of Bolivia. Knowing very little Spanish in a rural area in which nobody spoke English, they encountered a great deal of opposition. Fr Walsh resolved the problem by going to the market every morning to greet the people with the little Spanish he spoke. He spent four years in Cotoca and acquired a good command of the Spanish language, adapted to the customs, associated well with the people, and gained their love and respect.
On September 9, 1946, Father Walsh was appointed Group Superior of the Maryknollers in Bolivia and Procurator responsible for the Maryknoll Center House in Cochabamba. As more newly assigned missioners arrived, he directed the opening of a language school in Cochabamba. Before leaving Bolivia in 1949, he arranged the purchase of a house in La Paz, which would serve as residence for a procurator to serve both the needs of the Society as well as the needs of the Pando Vicariate.
While on home furlough in April of 1949, Father Walsh was appointed Spiritual Director of the students at Maryknoll Seminary, Brookline, Massachusetts for one year. In June of 1950, he was appointed 2nd Assistant Novice Master at the Bedford Novitiate and a year later in 1951 , he was appointed Procurator for the Bedford Novitiate. On July 29, 1955, he became the Local Superior of the Maryknoll Center in New York and served for two years in that capacity.
On April 9, 1957, Father Walsh was reassigned to Bolivia and again appointed Director of the Center House in Cochabamba. In May of 1960, he became pastor of San Roque Parish in Santa Cruz. He was transferred in 1966 as assistant pastor to Santa Ana Parish in Calacala, Cochabamba and was named pastor in 1969.
Father Walsh remained in Bolivia until his 40th anniversary of ordination in June 1982 when he returned to the United States on home leave. Periodic sickness kept him home until April 21, 1986 when he enrolled in the Special Society Unit with residence in Santa Cruz, Bolivia, where he remained in active work until April 1996. Father Walsh resided at the Maryknoll Center until his health called for more care and his residence became St. Teresa's in August 1999.
Wake services were held on October 14, 1999 at 7:00 p.m. at St. Teresa's Residence and at 7:30 p.m. at Queen of Apostles Chapel at Maryknoll Center where Father William Boteler officiated and Bro. David McKenna read the biography. Mass of Christian Burial was concelebrated at Queen of Apostles Chapel on October 15, 1999 at 11:00 a.m. Father Jeremiah Burr was Principal Celebrant and Father Edward Walck, homilist. Burial followed at Maryknoll Center Cemetery with Father Raymond Finch conducting the graveside service.