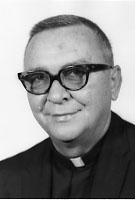 Father Delbert W. Robinson, MM
Born: June 13, 1920
Ordained: June 15, 1947
Died: March 15, 1991
Father Delbert W. Robinson died peacefully in his sleep on Friday morning, March 15, 1991 at St. Teresa's Residence. He was 70 years old and a priest for 43 years.
Delbert William was born on June 13, 1920 in Canton, Ohio, son of James E. Robinson and Stella Roden. He had two brothers and one sister. After high school in Canton he studied for two years at St. Charles College, Cantonville, Maryland and then entered Maryknoll at the Venard in September, 1940. As a student he was always quiet and pleasant, above average, a deep thinker, very practical, dependable and systematic in all that he did. He was ordained at the Center on June 15, 1947.
After ordination Father Delbert secured a Master of Arts Degree in English, in 1948 from Notre Dame University. He taught at Glen Ellyn and Brookline. In 1950 he was assigned to the Musoma Diocese in Tanzania.
He first studied the Kingoreme and Kiswahili languages and was soon assigned to establish a new mission in Iramba among the Bangoreme people who had no written language. As he gained command of their spoken language he composed a dictionary. He also supervised the construction of several needed buildings. He gained a reputation for being a good missioner, a good adrninistrator – all in his quiet way. After 7 successful years in Iramba Bishop John Rudin asked him to design and implement a uniform system of parochial registers, forms and reports for the newly established Diocese of Musoma, before being appointed Education Secretary of the Diocese for its further expansion. On a national level in 1963 he was appointed Secretary of the Tanganyika Episcopal Conference and Secretary General of the National Catholic Secretariate in Dar es Salaam. In that capacity he assisted at the Second Vatican Council, he published an article in the African Ecclesiastical Review called "The Church's Responsibility in the Social Field."
In 1965 Father Robinson was elected Chapter Delegate from the Africa Region and during it was elected 3rd Assistantof the General Council, serving in that position for 6 years. His thorough, clear-sighted research had a deep influence on that famous General Council. He was also the liaison person for the Treasury Department and influenced its policy.
In February, 1973 he was appointed Procurator General in Rome where he served the Society with distinction. In 1976 he was again assigned to Musoma but at his age of 56 the demands of mission work were too strenuous and he was recalled to the U.S. to serve in the Treasury Department as a resource person. Among his other tasks in 1979 was that of the revision of the Constitutions and Society Directory in the light of the 1978 Chapter.
Fr. Robinson's last appointment in 1983 was Society Archivist where he served for 3 years. In 1985 he enrolled in the Special Society Unit, with residence at the Center. Those who knew him well found him to be  warm, sensitive and concerned person. He suffered very much physical pain for over 20 years until the end but was sustained by his deep faith in God and Maryknoll care.
Wake services were held at St. Teresa's and the Center on March 18. Mass was by Bishop Rudin as principal concelebrant and Fr. Edward Wroblewski as Homilist. Burial was in the Center cemetery, conducted by Fr. Edward Hayes.