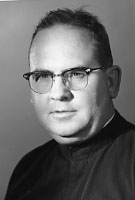 Father Denis E. O'Brien, MM   
Born: October 8, 1923
Ordained: June 13, 1953
Died: August 29, 2002
Father Denis O'Brien died in Dallas, Texas on August 29, 2002. He was 78 years old and a Maryknoll priest for 49 years.
Denis Edward O'Brien was born in Dallas, Texas, on October 8, 1923, son of Richard and Rose McGilligan O'Brien. Two of his uncles, Thomas and Bartholomew, were priests in West Texas. He had one brother. He attended Our Lady of Good Counsel School and graduated from W. H. Adamson High School, both in Dallas. After graduation in 1941, he attended one year of College at St. John's Seminary in Little Rock, Arkansas, studying for the Diocese of Dallas. However, on November 14, 1942 he enlisted in the United States Marine Corps and as a Sergeant served in the Peleliu Island landing in the South Pacific, and in the Okinawa landing and occupation. He was honorably discharged on November 23, 1945 and entered Maryknoll Apostolic College (Venard), Clarks Summit, Pennsylvania, on January 3, 1946. He earned his Bachelor of Arts degree in Philosophy and his Master of Divinity degree at Maryknoll Seminary, Ossining, New York, where he was ordained a priest on June 13, 1953.
After ordination, Father O'Brien was assigned to the Maryknoll Mission in Musoma, Tanganyika, East Africa. For health reasons he was recalled to the United States in 1957, and assigned to the Maryknoll Promotion House in Houston, Texas.
After two years on Promotion, on June 14, 1959 Father O'Brien was assigned to the Maryknoll Mission in Mexico, where he had a long and fruitful mission career in Maya villages of the Yucatan, in Merida and Mexico City. In Mexico City he served as the national advisor to the Episcopal Conference for their pro-life campaign. Returning to Merida, he worked with the Daughters of Charity in their ministry to the incurably ill. Father O'Brien was the founder of Pastoral del Amor, an organization that serves mildly retarded people who study Christian doctrine. He also sponsored a day-care center for profoundly retarded children and a hospice for incurable and abandoned retarded children.
During home furlough in 1966 Father O'Brien earned a Certificate in Theology of Papal Social Encyclicals at Loyola University, Chicago, Illinois. Upon his return to Mexico, he served as Director of the Cursillo Movement of the Maryknoll Mexico Region from 1968 to 1971. As Chapter Delegate from Mexico he participated in the 1972 Maryknoll General Chapter at Maryknoll Center in New York.
Father O'Brien remained in Mexico until early 1988, when he returned home for medical treatment. During his recuperation period, he engaged in pastoral ministry as a priest in residence of St. Pius X Parish in Dallas, Texas. Since 1989, he served as Spiritual Director of the American Life League and was also the National Chaplain to the First Marine Division Association and the local chaplain to the Dallas Chapter. He was also Chaplain to the Knights of Columbus, Council 799. On June 26, 1992 Father O'Brien was formally assigned to the Special Society Unit, and to the Retirement Community in February 2001, with continued residence at St. Pius X Rectory.
Wake and funeral services were held at St. Pius X Church in Dallas, Texas. Mass of Christian Burial was concelebrated on Wednesday, September 4, 2002, at 11:00 a.m. with Most Rev. Charles V. Grahmann, Bishop of Dallas, as Principal Celebrant and homilist. Burial followed in the Diocesan cemetery priest's plot. A memorial service was held on Tuesday, September 10, 2002, at 11:00 a.m. at Maryknoll, New York, with Most Rev. William McNaughton, MM, DD as Principal Celebrant and Rev. James W. Lehr, MM, Homilist.