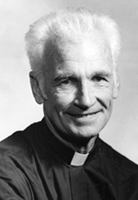 Father Denis P. Browne, MM
Born: March 26, 1917
Ordained: June 15, 1947
Died: June 4, 2013
Father Denis P. Browne died in Clinica Fioanini Hospital, Santa Cruz, Bolivia on June 4, 2013. He was 96 years old and a Maryknoll priest for 65 years.
Denis Patrick Browne was born March 26, 1917, in Vallejo, California, son of John and Nora O'Connor Browne.  Denis worked at the Mare Island Navy Yard as a Clerk-Typist from 1936 to 1938, the year he entered Maryknoll at Los Altos, California. He was ordained at Maryknoll, New York, on June 15, 1947.
All of Father Browne's priestly years were spent in Bolivia, serving in Cotoca, Montero, and San Roque Parishes in the Archdiocese of Santa Cruz and in the Vicariate of Pando, where he worked with an apostolic team principally to animate the religious leaders. Like most Maryknollers of his generation assigned to Bolivia in the 1940's, he was destined in his early years to travel the rivers and small towns of the Beni-Pando northern frontier region of the country that borders on the Amazon Basin. There he set out, along with the other missioners, to the far-flung villages along the Beni and Madre de Dios Rivers for weeks at a time. His infectious smile won the hearts and minds of the people who rarely encountered a priest in these remote areas, let alone one who quickly became their friend and confidant.
On these visits Father Browne took to heart the words and sentiments of the native people and translated their wisdom into refrains and sayings that later found artistic expression in his well known banners. One in particular epitomizes the spirit of those years. In one of the river villages, he met a young settler who introduced himself with these words: "soy yo un palito seco casi valor pero si se prende fuego produce luz y produce calor" (This is who I am, a dry twig almost without any worth, but if I am lit on fire, I produce light and heat.) Those words, which graced this and several other banners, testify to the deep bonds that he forged with the Bolivian people from the outset of his mission journey. A few years ago a young university student and collaborator of Father Browne's for many years, Judith Serrano, photographed most of these banners for a collection in a book with the catchy and whimsical title, Strange Thoughts for Strange People. With the same zest that led him to craft colorful banners, he turned to constructing crucifixes made from popsicle sticks that are strikingly beautiful examples of devotional art that adorn many houses and chapels throughout the country.
A born entertainer, story teller and actor, Father Browne developed his skills as a magician of local and national fame. True to his missionary spirit, he brought this gift to groups all around the city of Santa Cruz, to high schools, hospitals and universities.
Father Browne spent many years working in Our Lady of Mercy Parish in Montero, where he spent long hours with the people but also saved some time to play handball on the parish courts, where he was a fierce competitor.
He had been especially committed to the formation of the local lay leaders.  He spent a great deal of time on his motor scooter visiting them and searching out programs that might be helpful for their training and preparation as Christian grassroots leaders.  On the occasion of his 90th birthday in 2007 Father Browne was the subject of a special feature in the local newspaper, El Deber, (May 6, 2007). In the article the writer dwells on his friendship with a large cohort of young university students who flock to his apartment several days a week to get advice, prepare him lunch and swap stories.  Today, in missionary circles, there is a lot of talk and interest around the topic of the "New Evangelization."  Long before this became popular, Father Browne's mission methods and style clearly set the gold standard for a new evangelization, in that he had always reached out beyond the limits of the parish to meet people where they were, whether river dwellers and settlers in the Beni, sugar cane workers, or university students in search of meaning in their future professional lives in an ongoing 'prophetic dialogue'.
Father Browne joined the Retirement Community on July 1, 2006 and at the time of his death, was living in Santa Cruz, Bolivia, enjoying his hobbies.  Up until a few years ago, he continued with his magic tricks and assisted in orphanages and schools
Wake services were held in San Roque Parish on June 4, 2013. Large numbers of people of every age from the places where Father Browne lived and worked for 66 years were present, along with all of the Missionaries of Charity Sisters (Mother Teresa's group) whom he served as chaplain for 25 years. The recently retired Cardinal Archbishop of Santa Cruz, Julio Terrazas, attended the wake service and offered prayers for him. Father Browne was dearly loved by the entire Santa Cruz community and the neighboring towns of Montero and Cotoca.
Mass of Christian burial was celebrated on June 5, 2013, with Santa Cruz Archbishop Sergio Gualberti as principal celebrant, and with a large number of Bolivian priests and Maryknollers Stephen Judd, Frank Higdon, John Ogurchock and Sigmund Jamroz as concelebrants. Archbishop Gualberti and Father Judd offered the homily reflections. Auxiliary Santa Cruz Bishop Nicolas Castellanos also concelebrated the Mass. Burial rites took place at the El Pajanal Cemetery in the Archdiocesan priests' mausoleum. A Memorial Mass will be celebrated at Our Lady Queen of Apostles Chapel, Maryknoll, New York at a later date.