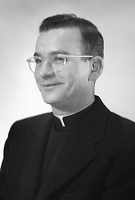 Father Dennis J. Lally, MM
Born: October 5, 1924
Ordained: June 14, 1958
Died: April 5, 1963
Dennis J. Lally was born in Uniontown, Pennsylvania on October 5, 1924. He attended St. John's Catholic High School for one year and Uniontown Senior High for three years. After graduation he went to work in the mines of the Weirton Coal Co. for a year. In July of 1943 he was drafted into the Navy where he spent thirty-two months. He served in the South Pacific and received his honorable discharge on March 29, 1946. In June of that year he entered the Venard as a special Latin student.
Father Lally was ordained to the priesthood on June 14, 1958 and assigned to the Philippines. After language study he was appointed assistant at the mission of Lupon and then at Mati. In June, 1961 he was named pastor of the Caraga Mission.
On April 5, 1963 Bishop Joseph Regan concluded a three day visit to the parish of San Salvador in the isolated municipality of Caraga on the East coast of Mindanao. Apparently in good health, Fr. Lally waved goodbye as the Bishop left by outrigger canoe for the next mission village in Baganga. He later fell ill, and died shortly after the Bishop's visit.
The next morning a Pontifical Requiem Mass was celebrated by Bishop Regan. Burial took place in the parish cemetery as requested by the people of Caraga.