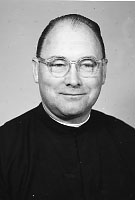 Father Dennis J. Slattery, MM
Born: November 5, 1909
Ordained: June 16, 1937
Died: October 19, 1997
Father Dennis J. Slattery died at St. Teresa's Residence, Maryknoll, New York at 9:40 p.m. on Sunday, October 19, 1997. He was 87 years old and a Maryknoll priest for 60 years.
Dennis Slattery was born in New York City on November 5, 1909, son of Dennis and Margaret Knowles Slattery. He had one younger sister. He attended Holy Trinity Parochial School for five years before entering Maryknoll Apostolic College (Venard), Clarks Summit, Pennsylvania, on September 9, 1924, at age 15. He was ordained a priest at Maryknoll Seminary in Ossining, New York, on June 16, 1937.
After ordination, Father Slattery was assigned to the Maryknoll Mission in Kaying, South China. After language studies in Hong Kong in 1938, he was appointed assistant pastor of the Catholic Mission in Tsungkow and later became its pastor. Fortunately, the World War II Japanese occupation of many parts of southern China did not greatly affect his area. However, he suffered several illnesses that left him with lasting health concerns. In September 1945, Father Slattery returned to the United States for medical treatment and the doctors gave him little hope of returning to China. On April 4,1946, he was assigned as Spiritual Director at the Maryknoll Junior Seminary in Akron, Ohio.
When the Akron Seminary was closed in June 1947, he was transferred to the Venard. There he served as Spiritual Director and professor of Religion for the next seven years. He was Sisters's confessor in a number of neighboring convents and gave many conferences to the Sisters as well as to the seminarians. He was considered the best spiritual director ever at the Venard and his influence on the spiritual life of the students was evident from the confidence they had in him. During that time, Father Slattery composed a book of 100 Spiritual Conferences for Junior Seminarians.
In April 1956 he was assigned to Special Studies in Rome, Italy, to research other systems of spiritual direction. He attended spirituality courses at the Angelicum University where he was able to meet and exchange ideas with spiritual directors of various seminaries in Rome. In September of 1958 he was assigned to Maryknoll College, Glen Ellyn, Illinois, as Assistant Spiritual Director.
When the Maryknoll Brothers Novitiate in Brookline, Massachusetts, opened in 1959, Father Slattery was appointed Assistant Novice Master and Vice Rector. He had a very fine rapport with the Novice Brothers and kept abreast of changes occurring in the Church. After the Brothers Novitiate closed on December 31, 1966, Father Slattery was assigned to the Maryknoll Mission Region in Hawaii. There he engaged in parish ministry in various localities.
After seven years of pastoral service in Hawaii, Father Slattery retired from active ministry and entered the Special Society Unit on November 5, 1974. He took up residence with family members in Seymour, Connecticut, where he engaged in limited pastoral work in Good Shepherd Parish. Father Slattery was assigned to St. Teresa's Residence at Maryknoll, New York, in 1989 where he continued to live as a member of the Retirement Community until his death.
Wake services for Father Slattery were held on Wednesday evening, October 22, 1997, at 7:00 p.m. in St. Teresa's Residence Chapel and at 7:30 in Our Lady Queen of Apostles Chapel at Maryknoll Center, New York with Fr. Larry Lewis presiding. Mass of Christian Burial was concelebrated at Queen of Apostles Chapel on Thursday, October 23, at 11:00 a.m., with Father Richard Smith as Principal Celebrant and Fr. John McKeman as homilist. Interment followed at the Maryknoll Center Cemetery with Fr. Thomas Henehan officiating.