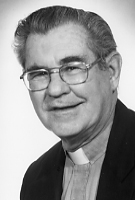 Father Donald C. Cleary, MM
Born: October 1, 1916
Ordained: February 7, 1943
Died: April 9, 1994
Father Donald Charles Cleary died in Stella Mans Hospital, Lima, Peru, on Saturday afternoon at 4:45 Lima time, April 9, 1994. He was 77 years of age and celebrated his 50th anniversary as a Maryknoll priest in June 1993.
Donald was born on October 1, 1916, in Newark, New Jersey, son of Charles B. and Mary Solomon Cleary. He has two brothers and one sister. He attended Sacred Heart Parochial School in Newark for 8 years and graduated from Seton Hall Preparatory School in South Orange, New Jersey, in June 1934. He entered Maryknoll Apostolic College (the Venard), Clarks Summit, Pennsylvania, on September 7, 1934. An excellent student he was considered a voluminous reader; he also was an enthusiastic sports fan of baseball and basketball, although not a player himself. He was ordained a priest at Maryknoll Seminary, in Ossining, New York, on February 7, 1943.
After ordination, Father Cleary was assigned to the new Maryknoll Mission in Puno, Peru, South America, where he would serve for a total of 37 years. In his parochial ministry he acquired an excellent knowledge of Spanish and very sympatico with the people. He undertook graduate studies at San Marcos University in Lima, Peru. In 1949 he served as acting Group Superior of the Maryknollers in Peru. His Superior wrote of him that: "he is a very capable missioner. I saw the very fine work he did with the people and also the prudent way he conducted the Puno mission when he was Group Superior."
On May 4, 1951, Father Cleary was assigned to Collegio Maryknoll in Rome, Italy, for theological studies. After securing his Licentiate Degree in Theology at the University of St. Thomas Aquinas (the Angeilcum) in Rome, he taught Dogmatic Theology for two years at Maryknoll Seminary in New York.
In August of 1954, Father Cleary was assigned to the Maryknoll Mission in Chile, South America, and served for six years in San Antonio Parish in Galvarino among the Mapuche Indians. In January of 1961 at his request, he was assigned to the Maryknoll Mission Region in Peru, where he served for the next twelve years.
During 1968-1969, Father Cleary studied psychotherapy and pastoral counseling at the American Foundation of Religions and Psychiatry in New York City. On August 10, 1973, he was assigned to the Office of Society Personnel at Maryknoll Center in New York. He served in that position, traveling extensively throughout the Maryknoll Mission Regions and Units, visiting Maryknollers in their places of residence and work. He had a healthy attitude and concern for the Society members as persons, rather than as just individuals involved in work. He attended the Mission Renewal Program at Maryknoll, New York, in early 1977. Once again in May 1977, he was assigned to the Maryknoll Mission in Peru, where he remained until his death.
During the 1980s, Father Cleary developed chronic health issues. As a resident in the Maryknoll Center House in Lima, he continued serving as an active member of the Peru Region, and in his own words, very happy in his ministry. His main task during those years was that of Psychological Testing of candidates for the Priesthood, Religious Life and Lay Apostolic Groups in the Archdiocese of Lima, as well as psychological counseling of Priests, Religious and lay persons who came to him.
Fr. Cleary was buried in Lima, Peru on Monday, April 11th. A memorial service was held at Maryknoll, New York on April 15th in Our Lady Queen of Apostles chapel. Fr. Charles H. Cappel was principal celebrant and Fr. Gerard T. McCrane was the homilist.