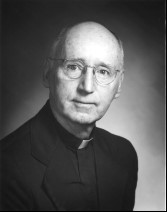 Father Donald J. Doherty, MM
Born: July 24, 1935
Ordained: June 9, 1962
Died: November 18, 2019
Father Donald J. Doherty, MM died on November 18, 2019 at the Maryknoll Society Center, in Maryknoll, New York.  He was 84 years old and a Maryknoll priest for 57 years.
Donald Joseph Doherty was born to George and Sarah Curristin Doherty on July 24, 1935 in the Bronx, New York.  He grew up with three brothers, George, Martin and Bernard and a sister, Margaret.  He graduated from St. Anselm's Elementary School in 1949 and from Cardinal Hayes High School in 1953.  On the day following graduation, he left for the Venard, Maryknoll Junior Seminary, for a six-week orientation program. In September of that year, he started his college studies with Maryknoll.  He graduated from Maryknoll College in Glen Ellyn, Illinois with a BA in Philosophy in June 1957.  He then reported to the Maryknoll Novitiate in Bedford, Massachusetts.  In 1961 he received a MRE from Maryknoll Seminary in Ossining, New York.  He was ordained a year later on June 9, 1962 and assigned to promotion work in Cleveland, Ohio.
Fr. Doherty served in Maryknoll's Development Department for six years until his assignment to Tanzania in 1968.  He did mission work in Zanaki, Tarime, and Dar es Salaam until an assignment to Society work in 1985.  From 1985 to 1991, he was Director of Media Relations and Productions and was spokesperson for the Society.  He also served two years as president of ACTRS (Association of Catholic Television & Radio Syndicators).  In 1992, Fr. Doherty was assigned to work in St. Rose of Lima Parish in Washington Heights, New York, where most of the parishioners were immigrants from the Dominican Republic. During this time, he managed to gain a working ability in Spanish.
Fr. Doherty left St. Rose in 1997 to return to work in Nairobi, Kenya.  He worked weekends helping at Doonholm Catholic Church in Nairobi.  During the week, he was a visiting lecturer at Tangaza College, a Catholic Theological School in Karen.  Many of the students, who represented 43 different countries, were from religious communities based in Kenya.  He taught Public Speaking, Homiletics, and Advertising.  He also helped part‑time with Brother Peter Agnone's street children project.  Fr. Doherty told a friend "Africa was the greatest gift of my life.  What a marvelous privilege to be able to live in Africa and learn so much about life.  Poor people can really make your life rich."
Fr. Doherty requested to join the Retirement Community (now Senior Missioner Community) when he turned age 65 in 2000.  In April 2001 he began a part‑time ministry as Catholic Chaplain at Beth Abraham Hospital in the Bronx, which is well known for music therapy and rehabilitation. He worked at Beth Abraham for five years. Fr. Doherty's hope was to continue mission in a new way at his home in the Bronx.  At the age of 70, Fr. Doherty discovered a hospitality project known as "couchsurfing". This project connected members to a global community of travelers. Fr. Doherty welcomed over 300 travelers of all faiths over a span of five years. He felt this was a continuation of mission.
Fr. Doherty was invited to represent the Maryknoll Society at the 16th General Assembly of the Maryknoll Sisters in 2008.  In 2019, Fr. Doherty returned to the Society Center, in the Assisted Living unit. A Rosary and wake service was held on November 24, 2019 in the Holy Spirit Chapel at the Maryknoll Society Center.  The biography was read by Fr. James R. Roy.  Fr. Doherty's remains were transferred to the Lady Chapel on November 25, 2019, where his family received condolences and prayers.  Mass of Christian Burial followed and was concelebrated in Queen of Apostles Chapel.  Fr. Michael A. Duggan was Principal Celebrant and Fr. John C. Sivalon was homilist. Fr. Michael J. Snyder offered the graveside service prayers in the Spellman Room.  According to Fr. Doherty's wishes, following the funeral services he was cremated and his cremains were placed in the Columbarium at Maryknoll, New York at a later date.