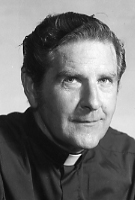 Father Donald J. Haren, MM
Born: March 9, 1919
Ordained: June 15, 1947
Died: June 24, 2007
Father Donald J. Haren died at St. Teresa's Residence, Maryknoll, New York on June 24, 2007. He was 88 years old and a Maryknoll priest for 60 years.
Donald Joseph Haren was born in Akron, Ohio on March 9, 1919, son of Benjamin and Catherine Pocki Haren. Two of his brothers were ordained priests for the Cleveland Diocese. He entered Maryknoll on September 7, 1937 and was ordained at Maryknoll, New York, on June 15, 1947.
Father Haren's first assignment was to the Chicago Promotion House. In 1949, he was reassigned and placed in charge of the Cincinnati Promotion House and three years later was appointed Local Superior and Promotion Director in Cincinnati.
On April 5, 1956, Father Haren was assigned to the Maryknoll Mission Region of Guatemala, where he worked for six years in various parishes, one of his appointments being pastor of the Cathedral Parish of the Prelacy of Huehuetenango, Guatemala. Along with his pastoral duties, Father worked to organize cooperatives among the rural Indians of his parish and then opened a shop in Guatemala City to sell the handcrafted goods they produced.
In 1962, Father Haren and three other Maryknollers were assigned to Santa Ana, El Salvador, the first missioners in that troubled country. He was Pastor of the newly formed parish of Mother of the Savior in the poorest section of the city near the railroad with more than 10,000 people. Here he supervised the building of the parish Church and Community Center. Father returned to Guatemala in 1968 and resided in the Center House in Guatemala City, Guatemala, working in the local parishes. On October 1, 1972, he was assigned to the United States Region and appointed Regional Director of Development in the Detroit area and Superior of the Detroit Development House. He was reassigned to the Central America Region on July 1, 1975, and worked in Guatemala City for eight years, before becoming pastor of La Libertad, a jungle parish in the Peten serving 20 communities.
In 1992, he returned to the United States and on August 1st of that year was assigned to the Special Society Unit, with residence at the Maryknoll Residence in Los Altos, California. In February 2001, he was assigned to the Retirement Community and moved to St. Teresa's Residence in July 2005.
Wake services were held at 4:30 p.m. on Wednesday, June 27, 2007 at St. Teresa's, and at 7:30 p.m. in Queen of Apostles Chapel at Maryknoll Center where Father David Kelly officiated and Father George Ratermann read the biography. Mass of Christian Burial was concelebrated in Queen of Apostles Chapel on Thursday, June 28,2007 at 11:00 a.m. Father J. David Sullivan was Principal Celebrant and homilist. Burial followed in Maryknoll Society Cemetery with Father John Barth conducting the graveside service.