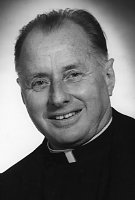 Father Donald J. Vittengl, MM
Born: August 6, 1930
Ordained: June 9, 1956
Died: May 11, 2014
Father Donald J. Vittengl died on May 11, 2014 at St. Teresa's Residence, Maryknoll, New York.  He was 83 years old and a Maryknoll priest for 57 years.
Donald Jude Vittengl, second son of Morgan John and Mary Derby Vittengl, was born on August 6, 1930 in Fairfield, Connecticut.  He has three sisters and two brothers.  His older brother, Father Morgan Vittengl, M.M., who was ordained in 1955, served in Hong Kong, the Education Department and Social Communications, died at Maryknoll on June 18, 1991.  A younger sister, Sr. Joan Vittengl, O.S.B.S., has been serving as a nurse and religious education director on the Sioux Indian reservations in South Dakota for many years.
Donald attended St. Mary's Elementary School and graduated from St. Mary's High School, Westfield, Massachusetts in 1947.  He entered Maryknoll at the Venard, Clarks Summit, Pennsylvania in September of that year.  He received a Bachelor of Arts degree in Philosophy in 1951, a Bachelor of Sacred Theology degree in 1955 and a Master of Religious Education degree in 1956.
After ordination on June 9, 1956 at Maryknoll, New York, Father Vittengl was assigned to the Maryknoll Mission Region in Japan, where he began his work in both the pastoral and educational fields.  In his 12th year of mission he was assigned to study Theology at the Catholic University of Paris, where he received a Licentiate in Sacred Theology degree in Dogma in June 1969.
Returning to his work in Japan, Father Vittengl was appointed the first Regional Coordinator for the Japan Region, an office which he held in conjunction with his work at Hope House, a social works project for outcasts and marginated workers in the Kyoto Diocese.  In 1972 he was elected to serve as a delegate at the Sixth General Chapter at Maryknoll, New York.
Father Vittengl returned to Japan in 1973, continuing to serve in the Dioceses of Sapporo, on the northern island of Hokkaido; Olta, on the southern island of Kyushu; and Kyoto, on the main island of Honshu.  In the Diocese of Kyoto he served as pastor, hospital chaplain and religion teacher for some 700 high school students in St. Paul's Academy in the City of Kustasu.
Father Vittengl returned to the United States in 1999, and in August 2000 he began a one-year assignment for the Albany Diocese as Administrator at St. Thomas the Apostle, Cherry Valley, New York.  He was assigned to the Retirement Community in May 2002, with residence at Mission St. Teresa, Maryknoll, New York.
Wake services were held at 4:30 p.m. on May 20, 2014 at St. Teresa's and at 7:30 p.m. in Queen of Apostles Chapel at Maryknoll Center where Father Emile Dumas officiated.  Mass of Christian Burial was concelebrated in Queen of Apostles Chapel on May 21, 2014 at 11:00 a.m.   Father Richard Aylward was Principal Celebrant and Homilist.   Burial followed in Maryknoll Society Cemetery.