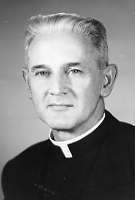 Father Donald L. Hessler, MM
Born: April 15, 1912
Ordained: June 11, 1939
Died: October 2, 1995
Father Donald Leo Hessler died on Monday, October 2,1995 in Cuernavaca, Mexico. He was 83 years of age and a Maryknoll priest for 56 years.
Donald was born on April 15,1912 in Ann Arbor, Michigan, son of Robert Leo and Harriet Kuhn Hessler. He had one brother and three sisters, one of whom became Sister Marie Arthur, I.H.M. He attended Sacred Heart and St. Thomas Parochial Schools, both in Ann Arbor, and Lake Orion Public High School for two years. He studied for 8 years as a seminarian for the Archdiocese of Detroit and received his Bachelor of Arts degree from Sacred Heart Seminary in Detroit. Donald entered Maryknoll Novitiate, Bedford, Massachusetts, on September 1, 1934, and was ordained a priest at Maryknoll Seminary, Ossining, New York, on June 11, 1939.
After ordination, Father Hessler was assigned to the Maryknoll Mission in Kweilin, South China. During a visit to Hong Kong in December 1941 he was interned by the Japanese. When repatriation to the United States was offered to Maryknoll internees, he and Fr. Bernard Meyer chose to remain in the Stanley Civilian Internment Camp for the duration of World War II. During internment, he was very active in Catholic Action work among the internees until liberated from Japanese custody on August 15, 1945. His health suffered during internment. He is well remembered by old timers in Hong Kong.
Father Hessler returned to the United States on March 23, 1946. He was assigned to the Maryknoll Mission in Japan on November 29, 1946, but his departure was delayed by ill health. He began a three-year recovery period in the Archdiocese of Santa Fe, New Mexico. There he became interested in the Chicano Family Movement and worked well with local groups. He was open to new ideas and approaches to apostolic works. He had an ability of instilling groups of lay people with an apostolic spirit which they otherwise never would have experienced. On February 8,1950, Father Hessler was assigned to the Maryknoll Mission in Hawaii and served there by replacing Maryknoll pastors on vacation.
His health recovered sufficiently for him to be assigned on August 3, 1950 to Maryknoll's rugged Mission in Mexico. There, Father Hessler found his fruitful mission for the next 43 years. After language and cultural studies, he was appointed Pastor of the Bacalar Mission, one of the most backward places in the Yucatan Peninsula. He became an advocate and promoter of the laity and team ministry among them. He became interested in the Grail Movement and brought a group of lay missioners from Loveland, Ohio, to his parish and developed a lay missionary apostolate among the local people. His lay group developed a cooperative farm which improved the skills of the local farmers and their farming methods. Because of what was accomplished, Father Hessler gained influence with the Governor and officials and gained government support for some of his projects. He received recognition in requests from Bishops in neighboring Belize and British Honduras to send tutors there to develop the lay apostolate in their dioceses. With all of this, he got the lay apostolate program off the planning table and into Church and social centers among the people. During his nine years in Bacalar, Father Hessler was very dedicated to the spiritual life and things spiritual, and very active in many apostolic activities.
In 1960, Father Hessler was transferred to Mexico City and took up residence and ministry in the Parish of Perpetual Help. There he became engaged with Catholic Relief Services and lay ministry among families, students and youth groups. He became active in promoting Cursillos and lay Retreats. His work with the Christian Family Movement in Mexico City gained national and international attention. He was a pioneer in developing Base Christian Communities, and groups such as Equipos del Apostolado Seglar (EAS). He himself wrote that "In truth I and others are convinced that it was God who brought me here to Mexico City. I've been happy in every mission which I have been sent or pushed (by the Japanese into the Stanley Camp). But there has never been for me an opportunity like the present to use every talent and weakness I have for the rapid formation of local lay leadership."
Over the years, he developed an illness that eventually required medical treatment at Monrovia, California, in May 1964. After recuperation, he returned to Unidad Independencia and resumed his work in the lay apostolates. He became engaged in the Charismatic Movement and expanded his activities to work among the Chicanos in the United States. In 1974, he was given six months leave of absence from the Mexico Mission Region to work among the Chicanos in the apostolate of the Mexican-American Cultural Center (M.A.C.C.) in San Antonio, Texas, after which he returned to Unidad Independencia. His Superior wrote about him: "All his work has been against a background of poor health and yet his ministry has been like one of robust health." During his last few years he lived with a family in Cuernavaca, confined entirely to the house and his bed and attended daily by a group of lay women dedicated to such care among the poor until he passed on to the Lord.
A wake service for Father Hessler was held in the evening of October 2nd and Mass of Christian Burial was concelebrated in the afternoon of October 3rd in the Capilla Purissima of the parish of Ojo Tepec, Mexico. Interment followed in the parish cemetery. Maryknoll's Mexico Regional Superior, Fr. Martin Keegan, along with Fr. Walter Winrich and Brother Anthony Marsolek, represented the Society and the Maryknollers in the Mexico Region.