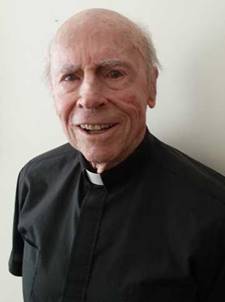 Father Donald P. McQuade, MM
Born: February 6, 1931
Ordained: June 12, 1965
Died: October 20, 2017
Father Donald P. McQuade died on October 20, 2017 at Mission St. Teresa's, Maryknoll, New York.  He was 86 years old and a Maryknoll priest for 52 years.
Donald Patrick McQuade was born in New York City on February 6, 1931, son of Lawrence and Teresa McQuade.  He had one brother and two sisters, one of whom was a Dominican Sister, and all of whom are now deceased.  He graduated from St. Joseph's Parish School in Astoria, Queens and from Bishop Loughlin Memorial High School in Brooklyn in June 1949.  He then attended Fordham University, graduating in June 1953 with a Bachelor of Arts degree in Philosophy.  He served as a 1st Lieutenant in the United States Army in Japan and was honorably discharged on April 18, 1955.  He worked for a shipping company in New York and in Europe before entering Maryknoll on July 25, 1960.  He received Master of Divinity and Master of Religious Education degrees from Maryknoll Seminary, New York and was ordained a priest on June 12, 1965.
After ordination, Father McQuade was assigned to the Maryknoll Mission Region in the Philippines where he worked in the Prelature of Tagum, Mindanao.  In September 1968, he was assigned to the Promotion Department, serving first in the New York City House and then in the Seattle (Washington) House.
Father McQuade was reassigned to the Philippines in February 1971.  Except for a brief assignment in Kalimantan (Borneo) Indonesia in 1977, all of his mission career was in the Philippines.  His ministries there included Supervisor in Clinical Pastoral Education, counseling, and working with alcoholics and drug addicts, retreat work, parish apostolate, and writing.  He had articles published in America, Review for Religious, Priest, Emmanuel and other magazines as well as in national newspapers in the Philippines.  Father McQuade also had three books on spirituality published in the Philippines.  Over the years, Father McQuade had taken courses in CPE, the Maryknoll Renewal Program in the Holy Land, the Rutgers Summer School of Alcohol Studies, the Summer Institute for Priests at Seton Hall, and Spiritual Exercises Retreats at Guelph, Ontario, Canada and in Poona, India.
In January 1998, Father McQuade retired.  However, he continued his work in the Philippines with drug addicts and alcoholics, as well as giving retreats.  In addition, he spent a few months each year doing the same work in Pago Pago, American Samoa.  Father McQuade joined the Senior Missioner Community in August 2005 with residence in Los Altos, California and, in 2012, moved to Mission St. Teresa's.
In summarizing his mission career, Father McQuade said, "The high point of my mission career and the one that gave me the most personal satisfaction was my apostolate with alcoholics and drug addicts. To see a person gradually change from a human wreck to a sane, loving, and responsible person and to see the joy of his or her spouse and family is to witness God's grace coming into our world in a marvelous and very powerful way. The Twelve Step Program of Alcoholics Anonymous has been called the most important new spirituality of the 20th century and can be used for other addictions.  It is inspiring to see people who have lost their faith due to their addiction come back and often become deeply spiritual in recovery."
A Rosary and wake service was held at 4:00 p.m. on October 25, 2017 at Mission St. Teresa's.  The body was received at the Maryknoll Society Center at 9:30 a.m. on October 26, 2017.  Father McQuade's family received condolences and prayers until 10:45 a.m. in the Lady Chapel.  The biography was read by Father James Hilgeman.  Mass of Christian Burial followed at 11:00 a.m. and was concelebrated in Queen of Apostles Chapel.  Father William Donnelly was the Principal Celebrant.  Father Kevin Hanlon was the homilist.  According to Father McQuade's wishes, he was cremated and his cremains were placed in the Columbarium in Maryknoll, New York.