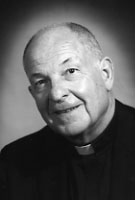 Father Donald R. Steed, MM
Born: April 14, 1927
Ordained: June 12, 1954
Died: December 3, 2007
Father Donald R. Steed died on December 3, 2007 at St. Teresa's Residence, Maryknoll, New York. He was 80 years old and a Maryknoll priest for 53 years.
Donald Robert Steed was born on April 14, 1927 in Medford, Massachusetts, son of H. Ernest and Mary Frances Patterson Steed. He had two sisters. Donald attended Hillside Grammar School and Medford High School, Medford, Massachusetts, before entering Maryknoll on September 2, 1944 at Maryknoll Apostolic College (Venard) in Clarks Summit, Pennsylvania. He earned his Bachelor of Arts degree in philosophy in June 1950 at Maryknoll Seminary in Ossining, New York and was ordained a priest at Maryknoll, New York on June 12, 1954.
Following ordination, Father Steed was assigned to the Maryknoll Mission Region in Bolivia, South America. After language and cultural studies in Maryknoll Language School in Cochabamba, Bolivia, he was appointed Assistant Pastor of the parish in Cala Cala. His work was principally in the campo area among the Quechua Indians, a farming people. In 1961, after serving five years in the Parish of San Roque in the Santa Cruz area of Bolivia, he was moved to Guayaramerin Parish in the Pando Vicariate where he was Assistant Pastor. There he created a great deal of good will and influence among the town's people. Through his dealings with the men of the parish he established a Parish Cooperative and Credit Union. In July 1963 Father Steed was appointed Pastor of Guayaramerin. He was actively engaged in many community civil action circles as well as the spiritual ministry. In 1966 he was appointed Procurator of the Maryknoll Procure in La Paz. The following year he was appointed Pastor of Our Lady of Mount Carmel in Riberalta. He became deeply involved in socio-economic and social communication projects, and was always seeking new ways to develop the life of the parish. In August 1968 he founded Radio San Miguel.
In 1972 Father Steed was appointed Director of the Aymara Center for Social Communications in La Paz. The Center promoted literacy programs through its San Gabriel Radio Station. Father Steed participated in the Mission Renewal Program at Maryknoll Seminary in New York in 1977 and then returned to Bolivia to continue his ministry in Cochabamba. In 1979, he was appointed to the Board of Directors of Radio San Rafael and was named Administrator of the Archdiocese of Cochabamba Finance Committee.
In September 1984 Father Steed was assigned to the U.S. Region and permitted to enlist in the U.S. Naval Chaplaincy Corps for a period of three years. Later the permission was extended to an unlimited period of time. He served with the U. S. Navy and U.S. Marine Corps in the Pacific and returned to the United States from sea duty in the Persian Gulf and Mogadishu in December 1993. After a short time, Father Steed was once again serving the U.S. Navy around the world, spending several years in Sicily before being transferred to the Naval Air Station in Rota, Spain. In 1999 he was transferred again, this time to Key West, Florida. He served there for two years before moving to his last assignment at the U.S. Coast Guard Training Center, Petaluma, California.
Over the years Rev. Lt. Steed was the recipient of many awards, including the Navy Commendation Medal (2 awards), Navy Achievement Medal (2 awards), National Defense Medal, Southwest Asia Service Medal, Armed Forces Expeditionary Medal, Joint Meritorious Unit Award, Navy & Marine Corps Overseas Ribbon (with 3 stars), and the Fleet Marine Force Ribbon. In 1997 he was awarded the Meritorious Service Medal for outstanding meritorious service while stationed in Sicily.
In 2004, after 20 years of service, Father Steed, retired from the U.S. Navy and in December of that year was assigned to the Africa Region and work in Namibia. Unfortunately health issues arose and Father returned to the United States in May 2005 and took up residence in St. Teresa's. He was assigned to the Retirement Community in June 2007.
Wake services were held at 4:30 p.m. on Wednesday, December 5, 2007 at St. Teresa's, and at 7:30 p.m. in Queen of Apostles Chapel at Maryknoll Center where Father William Coy officiated and Father Donald Allen read
the biography. Mass of Christian Burial was concelebrated in Queen of Apostles Chapel on Thursday, December 6, 2007 at 11:00 a.m. Father Raymond Sullivan was Principal Celebrant and Father William Coy, Homilist. Burial followed in Maryknoll Society Cemetery with Father Francis McGourn conducting the graveside service.