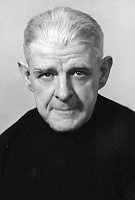 Father Donald V. Chisholm, MM
Born: August 19, 1892
Ordained: January 6, 1922
Died: July 16, 1960
Donald V. Chisholm was born on August 19, 1892 in Cambridge, Massachusetts. He attended St. Mary's parochial school there and then spent three years at Boston College High School. His family then moved to Washington, D.C. where he finished high school and in 1910 entered Georgetown University receiving his B.A. degree in 1914. He taught one year at Regis High School in New York City, and then one semester at Graymoor until February, 1916 when he was accepted for Maryknoll. He had to take a leave of absence for a year because of ill health and he went to Nova Scotia where he had many relatives and friends and found the invigorating climate favorable to his health. He was readmitted in September, 1918. As a Deacon in 1921 he was assigned to the Venard to teach and was ordained to the priesthood on January 6, 1922, at the Baltimore Cathedral. He continued at the Venard, teaching Homiletics, English and Science.
In 1925 Father Chisholm was assigned to Peng Yang, Korea. After his furlough in 1935 he returned to Korea and was appointed Chancellor of the Prefecture. He was among those repatriated on the Gripsholm in 1942.
The following year he was assigned to Hawaii, where he taught at the newly opened Diocesan Seminary and did some parish work. In 1947 he returned to Korea but the next year ill health forced him to return to the United States, and he was assigned to reside at Mountain View. In 1950 he went to Maryknoll but in 1958 he returned to Mountain View. The following year he came to Glen Ellyn.
Father Chisholm died at Glen Ellyn on July 16, 1960. The funeral was held on July 19 and burial was in the Glen Ellyn Cemetery.
Transferred to Maryknoll October, 1973.