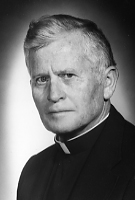 Father Donald W. Aubry, MM
Born: May 21, 1919
Ordained: June 15, 1947
Died: December 20, 1997
Father Donald W. Aubry died on December 20, 1997 at St. Teresa's Residence. He was 78 years old and a Maryknoll priest for 50 years.
Donald William was born on May 21, 1919, in Toledo, Ohio, son of William Richard and Catherine O'Reilly Aubry. He had two sisters and one older brother who became a priest in the Diocese of Corpus Christi, Texas. He attended St. Agnes Parochial School and graduated from Central Catholic High School in Toledo. Donald served in the U.S. government Civilian Conservation Corps (CCC) in Libby, Montana. He was attracted to Maryknoll by a Maryknoll movie and a lecture by a Maryknoll priest. He entered Maryknoll Junior Seminary (Venard) from the CCC service in September 17, 1938. As a student, he was physically strong, serious, earnest and devout with an excellent spirit. He was also reliable, hard working and very pleasant with everyone – all virtues which served him well later in his ministry. He was ordained a priest at Maryknoll Seminary in New York on June 15, 1947.
After ordination, Father Aubry was assigned to Maryknoll's mission in Bolivia, South America, where he adapted well to the living conditions and people. He learned written and spoken Spanish well. Serving as assistant pastor at the Montero parish in Santa Cruz, he spent himself tirelessly in caring for the people, especially giving attention to the outlying villages where he used every means possible to help his people. After a Home Leave in 1953, he went to Warnes, Santa Cruz. He then studied the Aymara language and was appointed pastor of the Penas mission on the Altiplano of the Archdiocese of La Paz. As a zealous missioner, he used the Aymara language to very good advantage, developing a wide vocabulary and preaching in that language. His Bishop wrote of him: "Father Aubry deserves much credit for having applied himself very well in the study of Aymara language. He built the priest's house in the Perias parish and did much to win the people back to the church. He is a hard worker and a capable missioner."
In January of 1955, he was assigned to the San Pedro Parish in La Paz, where his knowledge of the language enabled him to take care of the confessions and other religious needs of the Aymara-speaking parishioners. In 1959, he was assigned as pastor to the El Paso Parish in Cochabamba. It was an extensive parish, mainly among the Quechua people. He and his assistant restored the spirit and practice of the Faith in the people to a remarkable extent.
After Home Leave in 1961, Father Aubry served as assistant pastor at the Villa Galindo Parish in Cochabamba. His Superior wrote of him: Father Aubry is a tremendously zealous worker and highly effective. He is extremely good to the people, capable with the language and well liked by the Indians who form a major portion of the parish, and general a good, solid, spiritual-minded missioner. In April of 1966, Father Aubry was assigned temporarily to the Detroit Development House where he helped out in many parishes.
In January of 1968, Father Aubry was assigned to the Maryknoll Mission Region in Chile, South America, where the climate and medical facilities were ideal for him. He served as assistant pastor in the parish of San Alberto in Santiago, where he began to develop further health problems. He was placed in charge of the Maryknoll Center House in Santiago and did weekend work in a parish in Puente Alto. Being a man with strong work orientation, his physical limitations caused him much personal discouragement, yet he overcame these limitations by sheer willpower.
By February of 1982, his condition made it impossible for him to remain in Chile and he returned to St. Teresa's Residence, at Maryknoll, New York, for treatment. On February 1, 1984, Father Aubry was assigned to the Special Society Unit with residence at St. Teresa's where he resided until his death.
Wake services were held at 7:00 p.m. on December 21, 1997 at St. Teresa's Residence Chapel and at 7:30 p.m. at Queen of Apostles Chapel at Maryknoll Center where Fr. Stephen De Mott officiated and Bro. Harold Horne read the biography. Mass of Christian Burial was concelebrated at Queen of Apostles Chapel on December 22,1997 at 11:00 am. Father Thomas Henehan was Principal Celebrant and Father Thomas Kirchmyer, homilist. Burial followed at Maryknoll Center Cemetery with Father Michael Snyder conducting the graveside service.