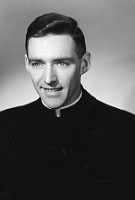 Father E. Patrick Patterson, MM
Born: January 16, 1929
Ordained: June 13, 1959
Died: February 8, 1980
Father E. Patrick Patterson (Korea) died on February 8, 1980 at St. Teresa's, after a long illness.
Born in Red Bank, New Jersey, on January 16, 1929, Pat was the son of Mary Ellen McCarron and Aloysius Joseph Patterson, parents who imbued Pat not only with the faith but also with the value of hospitality and friendship. In the mission, his parish house was much the same as his parental home — an example of good cheer and camaraderie, a place which friends enjoyed.
After studies at St. James Parish School and the Red Bank Catholic High School, Pat spent one year as a clerk in an attempt to gain enough money to pursue a college career, which proceeded from Monmouth Jr. College, to Catholic University, and to St. Peter's College — after which he entered Maryknoll in September of 1950.
During his time of formation with Maryknoll, Pat was seen as generous and sensitive, easy to talk with and delightful to be with. Through all of his Maryknoll life, Pat was the caring gentleman, a man of wit and laughter which constantly put others at ease. Ordained on June 13, 1959, Pat was assigned to Korea. Other than a short span spent in Society service in the Development Department, Pat's mission career was with his people in Korea.
Perhaps the character of this man might be measured most in his sense of family which he communicated to his fellow Maryknollers and to the people with whom he worked – a sense reflected in the great loss and emptiness felt by all, both here and in Korea, by his death. He was congratulated at one time by the Superior General for the large number of adults which he brought into the family of the church. He was conscious always that "a Maryknoller's family is part of the family of Maryknoll."
On Sunday, February 10th, there was a wake service celebrated, led by Father John K. Halbert. Mass of the Resurrection was on February 11th, with Father Michael A. Duggan as the Principal Celebrant, and Father John P. Meehan as homilist. Burial followed in the Maryknoll Cemetery.
When two of his classmates first spoke to Pat about dying, the depth of his simple faith was most evident. Pat said that although he had not realized he was dying, he was sure "My Lord and my Mother Mary have a place for me — so I am ready. I just pray that I will remain faithful. My faith is not very sophisticated — but it is strong." Shortly before his death he said to a classmate, "I am just waiting — and it's not bad at all. I am ready."