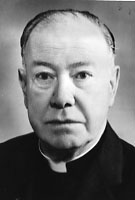 Father Edmond L. Ryan, MM
Born: August 10, 1910
Ordained: June 17, 1934
Died: March 31, 1980
Father Edmond L. Ryan died on March 31, 1980, at Los Altos, California. Ed had returned to the U. S. from his mission in Japan on December 30, 1979, because of failing health. Two weeks before he died, Ed wrote to Maryknoll, New York, to assure everyone that his health was improving and that he did not wish to be a burden to anyone.
Born in Watertown, Massachusetts on August 10, 1910, Ed was one of five sons and three daughters born to Edward W. Ryan and Margaret D. Doherty. When Ed was nine years old, he made a firm decision to be a priest — the only problem in his mind was what type of priest he should be. During his high school days, at Boston College High, he investigated both the Augustinians and the Oblates. Through the influence of his mother and aunt, Ed finally chose Maryknoll, a place where he felt at home even before entering Maryknoll.
During his formation years, Ed was an excellent student. He passed with ease from his First Oath in September of 1930 to his Ordination on June 17, 1934.
Ed was first assigned to Fushun, Manchukuo, the Japanese colony in Manchuria, in 1934. At the outbreak of the Second World War he was interned by the Japanese and repatriated on the M.S. Gripsholm. For the duration of the war he served as a chaplain at the Japanese interment camps in Watson, Arkansas. In 1946, Ed returned to Japan as a pastor of various churches on the northern island of Hokkaido and also the central prefecture of Mie, in the Dioccse of Kyoto. He remained at this work until December 1979 when he returned to the United States for reasons of health.
Ed was renowned for his talks in Japanese, which he gave not only to Catholic Church groups but also to local civic organizations, monasteries of Buddhist monks, youth groups and ladies groups. In the estimate of his superiors and fellow missioners, Ed was excellent in his command of Japanese, one of the best in Maryknoll's long history in Japan.
While Ed's talents certainly focused as teacher and lecturer, he was also successful in initial contacts to create good will among the people in order to build the Christian community. His gentleness, sensitivity and kindness to the poor was renowned. His mode of mission work was thoroughly to present the Christian doctrine while awaiting with respect the decision of the people to enter fully in the Church through baptism.
Mass of the Resurrection for Father Ryan was celebrated on April 2, 1980 at Los Altos, with Father William F. Pheur as the Principal Celebrant, and Father William M. Mackesy as the Homilist. Burial was in the Los Altos Cemetery. A Memorial Mass was celebrated at Maryknoll, New York on April 8, 1980 with Father Richard Whitmore as Principal Celebrant and Homilist, Father Howard E. O'Brien as Biographer, and Lay Missioner William Vendley as Reader.
While a Seminarian, Ed's mother wrote to him: "I was reading about Maryknoll, and I thank God every day that He has chosen you, my son, to be part of that great work."