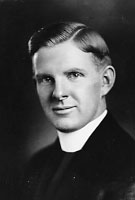 Father Edmund A. Toomey, MM
Born: May 29, 1904
Ordained: January 26, 1930
Died: March 21, 1982
Father Edmund A. Toomey died at his home in New Bedford, Massachusetts on March 21, 1982. He was born in New Bedford on May 29, 1904, to John and Sarah Toomey and was the youngest of five children. He attended Holy Name Grammar and High Schools in New Bedford and while there became acquainted with the life of Blessed Theophane Venard. He wrote that he read the account of Venard's life very carefully and, while it did not give him the first thought of the priesthood because he had been thinking of it very seriously for some time, it did awaken his zeal and planted in his heart a strong desire for foreign missions.
Ed joined Maryknoll in 1921 and spent three years at the Venard and six at Maryknoll. He was ordained on Jan. 26, 1930. After visiting Maryknoll two years ago on the occasion of the celebration of the 50th Anniversary or Ordination, he recalled arriving here 56 years ago from the Venard. He wrote that it brought back many happy memories and made him realize what has changed in all these years, not only as far as he was concerned but Maryknoll itself.
The early years of his mission life were spent in China; the later ones in Hawaii. He also did Development work in the Bedford area and on the West Coast. His first assignment in 1930 was to Wuchow, China. In 1936 he moved on to Kweilin where he served as Procurator and First Consultor. His health began to bother him in 1940 and he returned to the U.S. for treatment. After working in Development for four years he was assigned to Hawaii in 1944. Four years later he went back to China for a three year period, returning to Hawaii in 1951 to resume his work there. For twenty years he served the people of St. Philomena's Parish in Honolulu, where he was well liked and accepted.
Ed was assigned to the Special Society Unit in 1975. He resided with his sister in New Bedford and cared for her until her death later that same year. Though not well himself, he remained active and vigorous.
A Wake and Funeral Mass was held at his home parish of Holy Name, New Bedford on March 24. Funeral Mass was also held at Maryknoll on the 25th, Principal Celebrant being Fr. George Gilligan and Homilist Fr. Francis McRae, both classmates.
After his Golden Jubilee he wrote letters of thanks to all who had helped make it such a joyful celebration for him. This sense of gratitude seemed to be a special characteristic of his. We follow his example now as we say thanks to him for his many years of loyal and dedicated service to Maryknoll.
"Well done, good and faithful servant. Come and share my happiness." (Matt. 25,21)