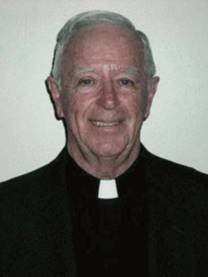 Father Edward A. Hayes, MM
Born: November 13, 1932
Ordained: June 13, 1959
Died: February 19, 2021
Father Edward A. Hayes, M.M. died on February 19, 2021 at the Maryknoll Society Center in Maryknoll, New York. He was 88 years old and a Maryknoll priest for 61 years.
Edward Anthony Hayes was born on November 13, 1932 in Boston, Massachusetts, one of five children of Patrick and Gertrude Tate Hayes. He graduated from Blessed Sacrament Grammar School in Cambridge in 1946 and attended one year of Sacred Heart Central High School in Cambridge, before entering Maryknoll's Brookline Junior Seminary in September 1947. Father Hayes was ordained June 13, 1959 at Maryknoll, New York.
Following ordination Father Hayes was assigned to Tanzania, and after completing language studies he was assigned to Tarime parish as assistant pastor. Two years later in 1961, he became pastor of Nyamwaga parish, where he served for almost twenty-five years. Father Hayes was deeply committed to his missionary ministry among those to whom he was sent to serve. He worked to Christianize the central rituals of the Wakuria, especially the "suba feast" of passage to elderhood. As some of these elders were baptized, they opened the door for the conversion of a people and culture.
Father Hayes was appointed Second Assistant to the Regional Superior for Tanzania in 1981 and Regional Superior of Tanzania in January 1984. He was re-appointed Regional Superior in 1986. At the 1990 Chapter held at Maryknoll, New York, Father Hayes was elected to the General Council and served as the Africa Area Assistant General. Upon completion of his term on the Council in 1996, he attended the Institute for Continuing Theological Education of the North American College in Rome. He served as Procurator General in Rome before returning to Tanzania in 2000.
After returning to Tanzania, Father Hayes completed the construction of a new parish at Komaswa Center, St. Gertrude's, named after his mother. He then resigned as Pastor and became Assistant at the rural parish of Rogoro, working with the East African missionary society named the Apostles of Jesus and the Daughters of Charity from the Congo Province. There he served the Bwiregi people whose language he spoke phenomenally well and where he had spent the first 24 years of his missionary work. As Father Hayes himself said of the Bwiregi and his relationship with them: "I not only speak their language, I think in it, too." Father Hayes reflected that this was a high point of his mission career, "having been able in my 70's to build and establish a new mission parish and being invited by my Bishop to return to the area where I worked for many years as a young missioner and where I have so many close friends and 'family'."
With the exception of his years on the General Council and in Rome, Father Hayes spent his entire missionary career in Tanzania, specifically the Musoma Diocese. On the occasion of the Golden Jubilee of the Diocese of Musoma, October 3, 2007, Father Hayes was honored by the Holy Father with a Medal Pro Ecclesia et Pontifice for his many years of ministry in the Diocese.
In July 2016 Father Hayes was appointed to Senior Missioner Status in the Africa Region. He continued to serve in the Musoma Diocese in Tanzania until returning to Maryknoll, New York in late 2019. He was assigned to the Senior Missioner Community in March 2020.
A Mass of Christian Burial was celebrated in Queen of Apostles Chapel at 11:00 a.m. on February 25, 2021. Father Edward Phillips was Principal Celebrant and Father John Sivalon was homilist. Father Edward Davis read the biography and Father Michael Duggan read the Oath. Burial followed in the Maryknoll Society Cemetery.