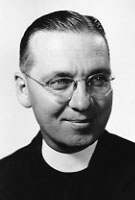 Father Edward A. Weis, MM
Born: November 29, 2006
Ordained: June 5, 1932
Died: January 1, 1987
Father Weis, upon entering Maryknoll in September of 1929, wrote a short autobiography in which he describes his early life as the fifth of seven children, all of whom attended the grade school of St. Michaels Parish, Milwaukee. He wrote of his strong admiration and appreciation of his mother who raised the family almost independently from the time of Fr. Weis's First Holy Communion. He speaks of his vocation to priesthood and Maryknoll as follows:
"From the time I entered St. Francis Seminary in 1921 my ambition to become a priest never faltered. It was only at the beginning of Philosophy, however, that I began to think seriously of the missionary life. The Philip Neri Mission Society, a unit of the Catholic Students Mission Crusade at the seminary, was particularly enthusiastic towards the purposes of the Crusade and alive with all sorts of mission activities. Under its auspices we enjoyed from time to time the visit of a real, honest-to-goodness missionary. All these things left a deep impression upon me and added to an already great admiration for those who left all for the sake of Christ and immortal souls. They were doubtless the seed of my vocation to the missions."
He entered Maryknoll in 1929, after completing seven years at St. Francis Seminary in Milwaukee. He made his Final Oath in December of 1932 after having been ordained in June. He was assigned to China the same year and labored there for eight years, first as a pastor and later as the Rector of the Minor Seminary in Fushun, Manchuria. In 1941 Fr. Weis was assigned to Development work and the next year was appointed Novice Master at Bedford, Massachusetts until 1947 when he was assigned to the Center as Spiritual Director to the Seminarians. Beginning in 1949 he responded to the educational needs of the Society and became a member of the Faculty at Glen Ellyn where he taught both Latin and Gregorian Chant. During this time he continued his studies. After spending a year helping out at the Venard he completed his studies for an M.A. in Latin at Marquette University in 1956 and returned to Glen Ellyn in 1957. From this time until 1965 Fr. Weis won the hearts and respect of the many seminarians to whom he taught Latin. In 1958 he was requested to be the Director of the Brothers at Glen Ellyn, a responsibility he accepted in addition to his teaching duties. This warm and generous "Pop" Weis was again requested to meet the needs of the Society when, in 1965, he went to Mountain View as Rector of the Seminary, as well as to care for the senior members of the Society in residence there.
After almost 25 years in the U.S. he was assigned to Korea in 1967 to minister to the Chinese in Inchon Diocese. In 1974 he was officially "retired" in Korea but continued to minister as Chaplain at the Sacred Heart Home for the Aged, continuing in this work until 1979 when he returned to take up residence at Los Altos. On October 28, 1986 Fr. Weis came to St. Teresa"s where, after only two days, he fell suddenly ill. He recovered and returned to St. Teresa"s. In the early morning of December 28th he was taken to Phelps Hospital for treatment where he died on January 1, 1987.
This memorial page communicates facts in the life of a dedicated and faith-filled Maryknoller but fails to communicate his warmth, his humor, his commitment and fervor. His own words on the occasion of his 50th Anniversary of Priesthood in 1982 do communicate some of the spirit that motivated him in life, in ministry and in mission: "What shall I return to the Lord for all His benefits? This is the quandary in which I find myself as I am about to observe the Golden Jubilee of my Ordination to the Priesthood. So, this is a spiritual SOS, if you will. For the exalted privilege of offering the Holy Sacrifice of the Mass, the unbloody renewal of Calvary, many thousands of times, and receiving at each the Sacred Body and Blood of our Divine Savior; for opportunities to administer in His Name, times innumerable, the Sacraments of the living and the dead; for preaching the Word of God in two Oriental languages and my own mother tongue, year in and year out; for all His ineffable graces and favors; – for all these I really need your help in thanking the good Lord in Whose Vineyard I've been privileged to serve now for half a century. The memento card is a reminder of my great need. My Mass that day will be for you and yours – my special Priestly Blessing!"
A Solemn Mass of the Resurrection was offered on January 5th with Fr. Ryan Hughes as Homilist.