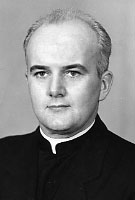 Father Edward B. Fleming, MM
Born: February 2, 1918
Ordained: June 12, 1954
Died: November 13, 1995
Father Edward Fleming died at St. Teresa's Residence, Maryknoll, New York, in the early evening of Monday, November 13, 1995. He was 77 years old and a Maryknoll priest for 41 years.
Edward Fleming was born on February 2, 1918, in Newark, New Jersey, son of Joseph and Alice Flynn Fleming. He had three brothers and one sister. Edward attended St. Augustine Parochial School in Newark and graduated from Seton Hall Preparatory School in June 1937 and from Seton Hall College, South Orange, New Jersey in 1941 with a Bachelor of Science degree. On July 20, 1942 Edward enlisted in the U.S. Army Air Corps. For the next year he attended various technical schools across the country. He arrived in England in June of 1943 and was assigned to the Flight Test Section of a 8-24 Group which won battle ribbons for raids on the Rhineland, Ardennes, Central Europe, and the Air Offensive in Europe. Discharged on September 29, 1945, Edward returned as a civilian to work for the Air Force at Newark, New Jersey, as base military inspector for all based and transient aircraft.
Edward entered the Maryknoll Novitiate at Bedford, Massachusetts on September 1, 1949. Six years later, on June 12, 1954, he was ordained a Maryknoll priest in Annunciation Chapel at the Maryknoll Sisters Center in Ossining, New York.
Father Fleming's first mission assignment was to Laguna, Philippines, a Province on the island of Luzon, where he served as an Assistant Pastor in the Paete Parish in the Diocese of Lipa. In the fall of 1956 he was appointed Procurator for the Maryknoll Society House in Manila. While in the United States on Home Leave in 1960, Father Fleming was assigned as Assistant Novice Master at the Maryknoll Brothers' Novitiate in Brookline, Massachusetts, where he served for two years.
Having requested to return to the Pacific area, Father Fleming was assigned to the Maryknoll Mission Region in Hawaii, on April 10, 1962, arriving in August of that year. He first served as Assistant Pastor of Sacred Heart Parish in Honolulu. From 1965 to 1967 he had no permanent assignment, but served the Region by taking the place of Maryknoll priests away on vacation or sick leave. Thus, he gained a good knowledge of the Maryknoll parishes in Hawaii and their people. In 1968, he was appointed Assistant Pastor of St. Joseph Parish in Hilo where he had a wide pastoral ministry in its two mission stations, its Grade and High Schools, and the large public hospital.
In November 1970, Father Fleming was appointed Assistant Pastor of Immaculate Conception Parish in Holualoa, North Kona. After Home Leave in 1971, he returned to Hawaii and was appointed Pastor of that same parish. At the time, it was the largest parish on the Island with five churches and over 5,000 parishioners. Thirteen years later, he left the parish in very good condition, self-supporting, with all the mission churches in excellent condition, a new social hall built in 1983 at St. Paul's mission church, and a large building fund set aside for a new parish hall and social center at St. Michael's Church in Kailua.
In March 1981, Father Fleming received medical treatment for an illness in Hawaii. After recovery, he returned to the heavy schedule of his parish. On September 17, 1984, he was enrolled in the Special Society Unit with continued residence and limited work in Immaculate Conception Parish as Assistant Pastor.
In February 1985, Father Fleming returned to Maryknoll, New York. On September 1, 1985, he participated in the three month Spiritual Renewal Program in Bethlehem, Israel. Upon returning to the United States, he took up residence with family members in Toms River, New Jersey, and continued in limited ministry in his home parish, St. Maximillian Kolbe. After several Father Fleming returned home until November 11th when his condition worsened and he died at St. Teresa's Residence at Maryknoll, New York.
Father Fleming was waked in Toms River, NJ on Thursday, November 16, 1995, at the Ryan Funeral Home and on Friday, November 17th, at St. Maximillian Kolbe Church where a wake service was held at 8:00 p.m. Mass of Christian Burial was celebrated at St. Maximillian Kolbe Church on Saturday, November 18th at 9:30 a.m., followed by interment in the parish cemetery. A Memorial Mass was celebrated for Father Fleming at Maryknoll Center, New York, on Monday November 20, 1995.