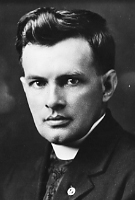 Father Edward F. LePrelle, MM
Born: November 1, 1893
Ordained: June 15, 1924
Died: April 5, 1959
Edward F. LePrelle was born in Buffalo on November 1, 1893. After grammar school he spent two years at Lafayette High from which he transferred to Bryant and Stratton Business School where he took courses in electrical engineering. He then helped in his father's bakery and worked for the Buffalo Steel Company. Realizing the need for further education, he entered Canisius High School in 1914, graduating two years later. His thoughts turned from engineering to the missionary priesthood and as a result he applied to Maryknoll and began his studies at the Venard, which had just opened in a converted farmhouse, in September 1916.
He was ordained on June 15, 1924 and assigned to the Kongmoon Mission in South China. As a young missioner in China he endeared himself to the Chinese by his affability and simplicity of manner. While finding the language difficult, he had an uncanny knack of understanding people and making himself understood. For seven years he gave himself generously to his adopted people until in December, 1931 when health issues necessitated his return to the homeland.
While at home he received medical treatment, which affected him for the remainder of his life. He was granted permission to live at home where he could undergo medical treatment and be cared for by his sisters. Although his condition made it difficult for Father Edward to say Mass, he was always cheerful and resigned. Whenever his health permitted he came to the yearly retreats.
After a long illness at the Sisters of Charity Hospital in Buffalo, his missionary career of vicarious suffering came to a close on April 5, 1959. He was fortified by the Last Sacraments and comforted by the presence of Fr. John Heemskerk, his old friend from seminary days and fellow-worker in South China.
The funeral took place at Father LePrelle's home parish, Annunciation, in Buffalo on April 9th and burial was at Maryknoll on the 10th.