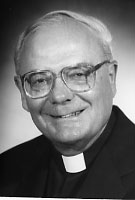 Father Edward F. Malone, MM
Born: November 26, 1925
Ordained: June 14, 1952
Died: November 4, 2009
Father Edward F. Malone died on November 4, 2009 at St. Teresa's Residence, Maryknoll, New York. He was 83 years old and a Maryknoll priest for 57 years.
Edward Francis Malone was born on November 26, 1925 in New York City, son of John and Margaret Borner Malone. He attended St. Stephen Parochial School and graduated from Regis High School in New York City, New York in June 1943 and entered Maryknoll Apostolic College (Venard), Clarks Summit, Pennsylvania in September of that year. After receiving his degrees (Bachelor of Arts in Philosophy, Bachelor of Sacred Theology, and Master of Religious Education) at Maryknoll Seminary, New York, he was ordained a priest on June 14, 1952.
After ordination, Father Malone was assigned to Collegio Maryknoll, Rome, Italy, to pursue a doctorate degree in Theology at St. Thomas Aquinas University (Angelicum). Having secured his Doctor of Sacred Theology degree in July of 1954, he was assigned to the faculty of Maryknoll Seminary, New York, to teach Dogmatic Theology and Ecumenism. He served in that capacity for 17 years. In the summer of 1956 he took courses in Cultural Anthropology at Columbia University, New York City. On May 12, 1959 he was appointed Dean of Studies at Maryknoll Seminary and continued his teaching as well for eleven years. Under his direction Maryknoll Seminary was twice academically accredited, first by the Middle States Accrediting Association and then by the American Association of Theological Schools – the first Catholic Seminary to be accredited by this Association. In 1965 he was appointed a member of the American Catholic Bishops' Committee for Official Dialogue with the Orthodox Church. In July of 1967 he was invited by the World Council of Churches to serve as an observer-consultant in the World Consultations on Theological Education in London, England. He was the first Catholic member elected to the Executive Board of the American Association of Theological Schools in 1968.
On January 1, 1972 Father Malone was assigned to Maryknoll's Mission Region in Hong Kong. He was immediately appointed to the faculty of Hong Kong's Holy Spirit Seminary to teach Dogmatic Theology. During his second year, besides teaching he also served in the Chai Wan mission. A year later he was assigned to the predominantly English speaking St. Joseph's Parish, where he took up residence as assistant parish priest and continued with his Seminary work. He was also appointed assistant Secretary General of the Federation of Asian Bishops' Conferences, a voluntary association of episcopal conferences in South, Southeast and East Asia. As assistant Secretary General, he conceived and supervised the publication of the FABC Papers. During the 2004 VIII FABC Plenary Assembly in Korea the participants compiled a booklet which contained scores of messages handwritten by cardinals, bishops, priests, religious and laity. This effervescent outpouring of appreciation confirmed the unique awareness of many Asian Church leaders that "FABC" and "Ed Malone" were almost synonymous in many respects.
He was elected as Chapter Delegate for the Hong Kong Region and attended the 1984 General Chapter at Maryknoll, New York. Father Malone has served for two terms on the Hong Kong Maryknoll Regional Council, and in 1985 was appointed Assistant Regional Superior for two years. In 1990 he was again elected to the Regional Council.
Father Malone continued working as a parish priest in St. Joseph's Church until August 2004 when he returned to the United States and took up residence at Mission St. Teresa's. He was assigned to the Retirement Community in October.
On July 25, 2007 Father Malone was honored by the Jesuit University in Manila with the "Bukas Palad" (Generosity) Award. This award was in recognition of his work for the Federation of Asian Bishops' Conferences (FABC) for over thirty years. The award was presented to Father Malone by Father Michael Sloboda and Brother Jude Conniff at St. Teresa's Residence.
Wake services were held at 4:30 p.m. on Monday, November 9, 2009 at St. Teresa's, and at 7:30 p.m. in Queen of Apostles Chapel at Maryknoll Center where Father Ernest Lukaschek officiated and Brother Kevin Dargan read the biography. Mass of Christian Burial was concelebrated in Queen of Apostles Chapel on Tuesday, November 10, 2009 at 11:00 a.m. Father Edward Wroblewski was Principal Celebrant and Father Raymond Nobiletti, homilist. Burial followed in Maryknoll Society Cemetery with Father Jose Aramburu conducting the graveside service. A Memorial Mass was held in Hong Kong on November 13, 2009. Bishop Tong was the celebrant and Father William Galvin, the homilist.