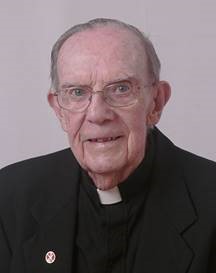 Father Edward F. Moore, MM
Born: August 14, 1931
Ordained: June 14, 1958
Died: March 17, 2022
Father Edward F. Moore, M.M, died on March 17, 2022 in the Assisted Living Unit at Maryknoll, New York.  He was 90 years old and a Maryknoll priest for 63 years.
Edward Francis Moore was born August 14, 1931, in Utica, New York, son of Edward F. and Jane Gagan Moore.  He was one of six children, having one brother and four sisters. After schooling in the Utica area, he entered Maryknoll on November 15, 1949.  He was a member of the first class at Maryknoll College, Glen Ellyn, Illinois and received a B.A. Degree in Philosophy.  After novitiate at Bedford, Massachusetts, he studied theology at the Maryknoll Seminary in Maryknoll, New York where he received his Masters in Religious Education.  He was ordained to the priesthood on June 14, 1958.
Following ordination, Father Moore was assigned to the Guatemala Region. After language school in Huehuetenango, Guatemala, he became Pastor of San Sebastian, Huehuetenango, working among the Maya Indian people.  In October 1961, he was assigned as Pastor of San Miguel Acatán, in the highlands of Huehuetenango.  In early 1967, after the Second Vatican Council, he participated in a seven month course at Latin American Pastoral and Catechetical Institute, in Manizales, Colombia.  Upon his return to Guatemala, Father Moore was requested to establish a Center of Apostolic Formation for the Animators of the Faith and Catechists, for the Diocese of Huehuetenango. During the post-Vatican II time, the Center was instrumental in presenting new trends in pastoral care to many priests, sisters, and laity in Guatemala.
In late 1973, Father Moore was assigned to the Diocese of San Marcos, Guatemala and became Pastor of San Pedro Sacatepequez.  He founded the Catechetical Center for the Diocese of San Marcos in 1974.  In late 1981, Father Moore was assigned to open a new Maryknoll commitment for the Central American Region in Puerto Limón, Costa Rica.  The formation of pastoral agents, Basic Christian Communities, and retreat work were the focus of his missionary activities in Puerto Limón.  In January 1984, Father Moore was appointed as Director of the Spiritual Renewal Program for Maryknoll for priests and brothers.  The program held two ten-week programs in the Holy Land each year.
Returning to Central America in 1988, he was assigned to a poor area in Guatemala City.  Once again, the formation of pastoral agents, Basic Christian Communities and retreat work were priorities.  Father Moore was appointed an Assistant Regional Superior of the Central American Region on two occasions during this period.
Father Moore was assigned to the United States in July 1995 and was appointed as Administrator of the Los Altos residence in California.  In January 1999, after a brief sabbatical in St. Beuno's, Wales, United Kingdom, Father Moore was assigned as co-founder of Maryknoll's new mission on the border of the United States and Ciudad Juárez, Mexico.  This program, along with a commitment to the Diocese of Ciudad Juarez, welcomed vocation prospects of the Maryknoll Society into the mission environment of Ciudad Juarez.  Father Moore remained a member of the Maryknoll Mission Border Team, which at one time had eight Maryknoll priests, two Maryknoll Sisters, and a Maryknoll Lay Missioner family.
Upon the dissolution of the Border Team, Father Moore continued to live in El Paso, Texas and in July 2010 was assigned to the Retirement Community (now Senior Missioner Community).  In July 2012, he moved to the Maryknoll Society Center, Maryknoll, New York and, in September 2012, was assigned to accompany Society members living at Mission St. Teresa's.  In July 2015, Father Moore was appointed to the newly formed Pastoral Visitors Team at Maryknoll, New York and was appointed to the Mission St. Teresa's Prayer Partners Team in January 2016.
Father Moore states, "I have many joyous memories of my missionary career.  I am grateful to our Maryknoll Society for the many opportunities and challenges I have been given to serve the Lord in Mission."
A Wake service was held on March 25, 2022 in the Holy Spirit Chapel and the Queen of Apostles Chapel at the Maryknoll Society Center.  Mass of Christian Burial followed and was concelebrated in Queen of Apostles Chapel.  Father James Lynch was the Celebrant and Father Fernand Gosselin was homilist. Brother Martin Shea read the biography and Father John Rich read the Oath. Burial followed in the Maryknoll Society Cemetery.