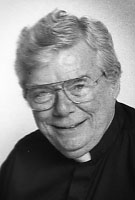 Father Edward F Walck, MM
Born: April 15, 1929
Ordained: June 9, 1956
Died: February 28, 2013
Father Edward Walck died at St. Teresa's Residence, Maryknoll, New York on February 28, 2013.  He was 83 years old and a Maryknoll priest for 56 years.
Edward Francis Walck was born in Yonkers, New York on April 15, 1929, son of Edward and Elizabeth Gallagher Walck.  In 1936 the family moved to The Bronx, where he graduated from Visitation Grammar School.  After two years at Cardinal Hayes High School, he entered Maryknoll at Maryknoll Junior Seminary in Cincinnati, Ohio.  He received a Bachelor of Arts degree in Philosophy in 1951, a Master of Religious Education degree in 1956, and was ordained at Maryknoll, New York on June 9, 1956.
Immediately following ordination, Father Walck was assigned to Bolivia, and after language school, he served in parishes in the cities of La Paz and Cochabamba.  He served as Pastor of Santa Ana Parish in Cochabamba from 1964 to 1969.  While in Cochabamba, he also served as Diocesan and Assistant National Director of the Christian Family Movement and as alternate Consultor to the Regional Council.
Father Walck was assigned to the U.S. Region and to the Development Department in New York City in July 1969.  After two years, he returned to Bolivia, assuming duties as Pastor of Cristo Rey Parish in Cochabamba and Consultor on the Regional Council.
In 1974 he returned to New York, taking a sabbatical year serving as Assistant in Saint Josephs Parish in the Yorkville section of New York City, following which he served again in the Development Department, this time in New England.
In 1980 Father Walck was assigned to the Maryknoll Mission in Mexico, where he served two terms as Assistant Regional Superior as well as serving in parishes in Yucatan and Mexico City.  For ten years, he was Vicar for Youth Ministry in the Diocese of Veracruz, where he also founded and directed a youth center.
For health reasons, Father Walck retired from active overseas service on June 1, 1995, when he joined the Special Society Unit with residence in St. Leos Parish in Bonita Springs, Florida.  Here he ministered to the Hispanic community and began writing a history of the Maryknoll Mission in Mexico.  He joined the Retirement Community in February 2001 and with his health deteriorating, he moved his residence to Maryknoll, New York.  In June 2003 he moved to Venice, Florida, and although not a member of the Venice Cathedral Parish, he served as consultant to the Justice and Peace Committee of the parish, and occasionally helped with Bible Reflection groups.  He also served as Chaplain for the Knights of Columbus, Council 7052 in Venice and as Spiritual Director for "The Brothers of Adoration."  In addition to all that, occasionally Father Walck assisted at Ecumenical prayer sessions in a nearby retirement home.  In 2010 his health forced him to leave Florida and return to Maryknoll, New York.  Here he continued his work on the history of Mexico.  In March 2011 he moved to Mission St. Teresa's at Maryknoll, New York.
Wake services were held at 4:30 p.m. on Monday, March 4, 2013 at St. Teresa's, and at 7:30 p.m. in Queen of Apostles Chapel at Maryknoll Center where Father William Coy officiated and Father James Hilgeman read the biography.  Mass of Christian Burial was concelebrated in Queen of Apostles Chapel on Tuesday, March 5, 2013 at 11:00 a.m.  Father Emile Dumas was Principal Celebrant and homilist.  Burial followed in Maryknoll Society Cemetery with Father Edward McGovern conducting the graveside service.