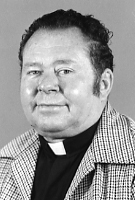 Father Edward H. James, MM
Born: June 27, 1924
Ordained: June 9, 1951
Died: November 18, 1987
Father Edward Henry James died at St. Teresa Residence on Wednesday, the 18th.
Edward was born on June 27, 1924 in Washington, Indiana, son of Jesse Harold and Helen Rose James. He had four brothers and four sisters. His early education was in the parish parochial school and he graduated from Washington Catholic High School in 1942. He entered St. Meinrad College & Seminary and three years later withdrew to enter the Bedford Novitiate in September, 1945. He was ordained at Maryknoll on June 9, 1951 and a month later left for his first mission in Tanzania.
'Eppy', as everyone called him, worked enthusiastically for three years among the Wakuria people at Rosana. At the beginning of Maryknoll's new commitment at Maswa in 1954, Eppy was one of the veteran missioners to move from Musoma. He became pastor of the Nassa Parish. There he had good success in the number of conversions in that difficult area. Basically, his life in Tanzania was that of a rural mission pastor. He spoke three African languages well – Kiswahili, Kikuria and Kisukuma. He enjoyed mixing with the people and so was able to learn a language more quickly than others with more ability. All of his Regional Superiors noted his steady, hard work, his enthusiasm and zeal, and that he was a good, kind, sociable host. One said, "he was widely known for his happy spirit, loved by his people and fellow Maryknollers. He was full of bounce, optimism and joy, always with a smile in his eyes and on his lips. To be with him was a joy."
While at home on furlough in 1957 he did Development work in the Cuyahoga Promotion House. He returned to Nairobi the next year and was assigned again to Musoma. He served at the local seminary as a teacher and, of course, was very popular with the students. After his furlough in 1963 he was named Pastor to the Gula Parish and then on to the Malili Parish until 1970. During home leave in the States in 1973, after special training, Eppy acquired expertise in hospital work, and served for a while at St. Teresa Parish in Tarrytown and as Chaplain at Phelps Memorial Hospital. His Regional Superior wrote that he chose to do hospital chaplaincy work at the Kenyatta Hospital, where his zest for life and personal skills would range the healing ministries of sacrament, care and counseling. Working with Father John Wymes and later with Father Maurice Zerr, Eppy mentored Maryknoll overseas students and seminarians of the Archdiocese of Nairobi in the care of the sick and dying. Hospital ministry now enjoys status and priority in the local church, due to the way Eppy formed it so that others could follow him. Together with Fr. Lawrence Magesa, he initiated a program of recovery for the chemically dependent in Nairobi. This enterprise was entirely new to East Africa. Today the program prospers as a highly visible and priority ministry. Eppy is very well remembered by the African people graced by his joyful presence and ministry. Kenya was his last overseas mission assignment.
In March, 1981 he was assigned to the Development Department as Vocation Director in the Buffalo house; then transferred to St. Louis in 1963 as Director and Local Superior. In September of 1984 Eppy fell ill. After recovery he was assigned as Director of the Development House and Local Superior in the Cincinnati area in 1986.
He wrote to Father Boteler in March, 1987, "God has been good to me in permitting me to continue my work as a Developer. My last three months have been very active ones and my goals and objectives have been realized. The future is in His hands. But I will continue His and Maryknoll's work as long as I am physically able." The Kenya Regional Superior said that during his final months Eppy's letters held the Kenya personnel in awe as a missioner and brother, as accepting of death as he had been of life. One of the African Maryknoll priests visited him in the hospital in Mt.Kisco to strengthen and encourage him. Eppy's reply was: "I know I'm going to die but that won't stop me from paying for you guys.
The Rosary was offered at St. Teresa Residence on Wednesday evening. Wake service was conducted by Fr. William Knipe in the Center Chapel on Friday, the 20th. The Biography was read by Bro. Peter Agnone. Mass of Christian Burial followed the next day, with Fr. Thomas Keefe as principal celebrant and Fr. John Ganly as the Homilist. Graveside service was by Fr. Joseph Brannigan.