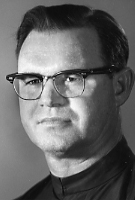 Father Edward J. Bratton, MM
Born: June 14, 1914
Ordained: June 15, 1947
Died: June 27, 1990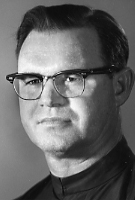 Born: June 14, 1914
Ordained: June 15, 1947
Died: June 27, 1990

Father Edward J. Bratton died on June 27, 1990 at El Camino Hospital in Los Altos. He was 76 years of age and a Maryknoll priest for 43 years.
Edward John was born in Philadelphia on June 14, 1914, son of Edward H. Bratton and Marie McClafferty. He had two brothers. He wrote the following about his vocation: "The foreign mission idea first came to me when a missionary priest of the Oblates of St. Francis, visiting North East Catholic High School, told of the work the missioners were doing in Africa. After many years I finally decided to be a missionary and after many hours of thought on the various fields of work connected to the priesthood."
Prior to entering Maryknoll Edward attended Strayers Business School for a year. From 1933 to 1937 he was employed by Price Battery Corp. in Philadelphia as a stenographer and general clerk; and during 1937 completed a year in Advertising and Merchandising at University of Pennsylvania Evening School.
In 1938 he entered the Venard. He was ordained on June 15, 1947. As a student Edward was rather quiet, hardworking and devout. He had to apply himself quite earnestly to his studies because he had been away from school for several years.
After Ordination Father Bratton was assigned to Musoma Mission and served as assistant pastor at Ukerewe Mission and Procurator in the Kowak house for four years. There he worked among the Luo people and learned their language. Next he was appointed pastor in the Komuge Mission where he did a good job building the rectory, church and school. He learned the Kisimbiti language and composed the first dictionary for it.
He returned to his old mission of Komuge after furlough in 1953. He had the reputation of being a good builder, a solid missioner who kept his mission neat and orderly, and economically managed. He liked the people very much although he was strict with them. They, in turn, responded well. In 1955 he was appointed 1st Consultor to the Society Superior of the Musoma Prefecture. In 1959 he was transferred as assistant pastor to the Rosana Mission and a year later became its pastor. While home on furlough in 1961 he took a six month course in Kiswahili but at the end he never returned to Africa.
Toward the end of 1961 Father Bratton was assigned to Holualoa on the island of Hawaii, serving as assistant pastor of Immaculate Conception Parish. Under the benign influence of Hawaii he began to soften his strict demands on the people and grew to like them very much. Next, in 1971, he was transferred to the very busy suburban parish of St. Anthony of Padua in Kailua, Oahu. There he often remarked on how happy he was in Hawaii and went out of his way to be good with the people. He felt that they also liked him and responded to his ministry. In 1968 he was appointed pastor of Sacred Heart Parish in Naalehu, which is the southernmost town in the United States.
In April of 1973, at his request, he returned to take up parish work in California's Oakland Diocese, as Associate Pastor in St. Jasrath Parish, Oakland and then in St. Michaels, Livermore, CA. In 1980 he was given a 3-year assignment to Development in Houston. At 68 years of age he requested assignment to the Special Society Unit, with residence at Los Altos. There he continued to help out in neighboring parishes until June 1990.
Mass of Christian Burial was offered in the Los Altos Chapel on June 30, with Fr. Arthur Dwyer as principal celebrant and Fr. Edwin McDevitt as Homilist. Fr. Thomas Brack conducted burial service in the Maryknoll Cemetery, Los Altos. At the Center a memorial Mass was offered on July 3, 1990.