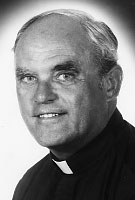 Father Edward J. Flanigan, MM
Born: June 25, 1929
Ordained: June 9, 1956
Died: June 30, 2007
Father Edward J. Flanigan died at Phelps Memorial Hospital, Sleepy Hollow, New York on June 30, 2007. He was 78 years old and a Maryknoll priest for 51 years.
Edward James Flanigan was born in Philadelphia, Pennsylvania on June 25, 1929, son of Edward and Regina Murphy Flanigan. He is the oldest of five children: his sisters are Maureen, (Sister Regina) of the Immaculate Heart of Mary community in Philadelphia, who spent many years on the IHM missions in Chile and Peru, and Dr. Eleanor, professor of computer science at Montclair State University in New Jersey.
He attended Good Shepherd and Most Blessed Sacrament elementary schools and West Philadelphia Catholic High School for Boys. He entered Maryknoll in September 1946 and received a B.A. degree in Philosophy in 1951, an S.T.B. in 1955, and a Master's degree in Religious Education in 1956.
Father Flanigan was ordained at Maryknoll, New York on June 9, 1956. He then sailed to his mission assignment with the Chinese people on the island of Formosa, now Taiwan. Following language study, he spent the early years in pastoral work in the mission of Chu Shan where, with the help of State-side friends, he built a new village church named St. Anne's in the Fields and also worked in the large mission of Tien Chung where he helped with the existing goiter eradication program for many affected people in the area. In 1962, after advanced Chinese studies at the University of Pennsylvania, he was assigned as pastor of St. Patrick's Mission of Feng-Yuan, where he worked for the next 12 years. During that time he built a convent for the native Taiwanese sisters, established a county-wide nutrition program for underprivileged children, formed 2 councils of the Legion of Mary and conducted many parish outreach groups.
In the mid-70s Father Flanigan was assigned to the U.S. and the Society Development Department, working in Los Angeles and New Jersey. On his return to Taiwan in July 1977, he helped complete a common usage English-Amoy Chinese dictionary, and he worked among the mountain aboriginal tribes in Central Taiwan. In 1980, due to a large influx of Chinese students to Hawaii, he was assigned to a term as chaplain at the University of Hawaii and the East-West Center in Honolulu. When he returned to Taiwan, he was involved in family ministry in Maryknoll's Friendship House in the capital city of Taipei.
In 1986 Father Flanigan was assigned as pastor of Holy Cross mission in Changhua City, central Taiwan, which included pastoral care for two large hospitals, Changhua Christian and Siu-Thoan. Due to illness while in the mission there, he was only able to remain a few years and was forced to return to the States for 2 years of medical treatment at the Society Center at Maryknoll, New York. In 1990 he was able to return to Taiwan, where he served as Director of the Maryknoll Chinese Language School in Taichung, and has been responsible over the past 15 years for the compilation of an Amoy Chinese-English dictionary and the publication of a book of hundreds of common usage Taiwanese proverbs. Due to medical reasons, Father Flanigan returned to the U.S. in the spring of 2005 and took up residence at St. Teresa's.
Wake services were held at 4:30 p.m. on July 2, 2007 at St. Teresa's, and at 7:30 p.m. in Queen of Apostles Chapel at Maryknoll Center where Father Robert Crawford officiated and Father William Frazier read the biography. Mass of Christian Burial was concelebrated in Queen of Apostles Chapel on July 3, 2007 at 11:00 a.m. Father John Moran was Principal Celebrant and Father William Galvin homilist. Burial followed in Maryknoll Society Cemetery with Father John Barth conducting the graveside service.