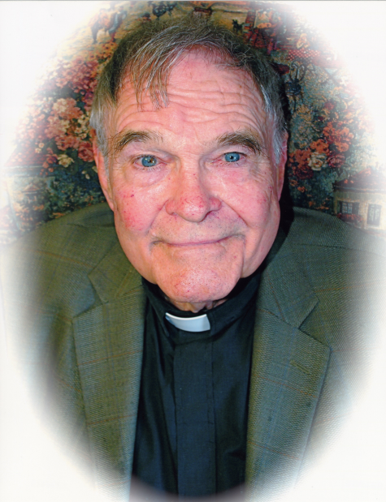 Father Edward J. "Lou" Quinn, MM
Born: July 26, 1925
Ordained: June 9, 1951
Died: February 23, 2019
Father Edward J. "Lou" Quinn died on February 23, 2019 at the Maryknoll Society Center in Maryknoll, New York.  He was 93 years old and a Maryknoll priest for 67 years.
Edward James Quinn was born in Redwood City, California on July 26, 1925, son of Arthur and Catherine Armatis Quinn.  He had one brother, Richard, who served as a Maryknoll priest in Latin America and is now deceased.  Edward attended St. Mary's Parochial School and St. Leo's Parochial School in San Jose, California.  He entered first year of high school at the Maryknoll Junior Seminary, Los Altos, California and continued on through Maryknoll's education program until he was ordained a priest at Maryknoll Seminary in New York on June 9, 1951.  He received his Bachelor of Arts degree in Theology and his Master of Religious Education at Maryknoll Seminary.
After ordination, Father Quinn was assigned to special studies and secured a Bachelor of Science degree in Chemistry from Manhattan College, New York City, in 1952.  He then taught chemistry and Gregorian Chant at Maryknoll Junior College in Lakewood, New Jersey for two years.
Father Quinn was assigned to the Maryknoll Mission in Taichung, Taiwan in August 1954.  He remained in Taiwan for thirty-seven years.  After language studies he served as assistant pastor in the Yuanlin parish for nearly two years.  Next he was appointed pastor of the new parish of Pu Li, where he built a church.  As pastor of Lukang, Father Quinn got very involved in local history and cultural studies.
In 1973 he did graduate studies in psychology and counseling at the University of Santa Clara, California and then returned again to Taiwan, becoming pastor of the Catholic Mission in Peng Shan, Kaohsiung Hsien.  In 1979, Father Quinn was trained in Clinical Pastoral Education in Manila and supervised CPE programs from Hua Ming Counseling Center, Taipei, until 1995.  He was appointed Third Assistant to the Regional Superior for the Taiwan Mission Region in October 1988.
Father Quinn was given a new mission assignment to Maryknoll's Mission Region in Tanzania in October 1991.  There he served as Curate/Assistant in Salawe Catholic Church in Shinyanga, Tanzania for 13 years.
In May 2004 Father Quinn returned to the United States and moved to the Maryknoll Residence in Los Altos, California.  In July of that year, he was assigned to the Senior Missioner Community.  He remained at Los Altos until November 2014 when he took up residence at Maryknoll, New York.  In June 2016 he celebrated his 65th Jubilee as a Maryknoll priest.
A Rosary and wake service was held at 4:00 p.m. on March 4, 2019 in the Holy Spirit Chapel at the Maryknoll Society Center.  Father Quinn's remains were transferred to the Lady Chapel on March 5, 2019 at 9:30 a.m., where his family received condolences and prayers until 10:45 a.m.  The biography was read by Father Robert Crawford.  Mass of Christian Burial followed at 11:00 a.m. and was concelebrated in Queen of Apostles Chapel.  Father John Moran was Principal Celebrant and homilist.  According to his wishes, Father Quinn was cremated and his cremains were placed in the Columbarium at Maryknoll, New York.