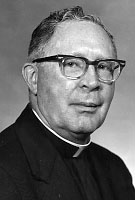 Manning Edward J
Born: March 21, 1913
Ordained: June 14, 1938
Died: August 11, 2000
Father Edward J. Manning died on Friday morning, August 11, 2000 at St. Teresa's Residence, Maryknoll, New York. He was 87 years of age and a Maryknoll priest for 62 years.
Edward Jerome Manning was born in Richmond Hill, Queens, New York on March 21, 1913, son of James and Bertha Heid Manning. One of six children, he had three sisters and two brothers, one of whom, James V. Manning, became a Maryknoll priest (ordained in 1935) and served 47 years in Chile until his death in 1990. Upon graduation from the parochial school of Holy Child Jesus parish in Richmond Hill, Edward entered Maryknoll Junior Seminary at Clarks Summit, Pennsylvania on September 8, 1926. In his early years of seminary he wrote in his autobiography the following – "A short autobiography of this type is, I suppose, bound to be concerned almost entirely with the story of the gradual development of the divine vocation to the priesthood. Certainly this may be said to be true of any seminarian, since his vocation is, or should be, the integral part and the future ideal of his life and a good many years of his life are devoted towards the fulfillment of the ideal… Even when we were still very young, my brother Jim and I both had thoughts of the priesthood. This idea was fostered and encouraged by my mother although it meant a great sacrifice for her… The diocesan idea appealed to me naturally at first since I knew I would not be far from home. Still, I felt drawn to the missions and the reading of the life of Theophane Venard helped me decide… Five years I spent at the Venard and now I feel that I am really on my way to the priesthood and finally China and the field ripe for the harvest." Father Manning was ordained at Maryknoll, New York on June 14, 1938.
Following ordination, Father Manning was assigned to the Maryknoll mission in Fushun, Manchuria, where after the 1941 Japanese bombing of Pearl Harbor, he was interned as an enemy alien. In mid-1942, Father Manning returned to the United States aboard the Swedish repatriation ship, Gripsholm, and in the expectation of returning to Manchuria after the end of what had become World War II, and with the approval of the Superior General, he enlisted in the Chaplain Corps. After a period of training at the Chaplain School at Harvard University, he was assigned to the B-17 Bomber facility at Smoky Hill Army Air Corps Base in Salina, Kansas, where he served as a Base Chaplain (and later in the same capacity at other Bases in the United States) until the end of the War and his discharge in March 1946. In 1946 Father Manning was assigned as Vice Rector at the Maryknoll Junior Seminary in Akron, Ohio for one and a half years. In 1947, he became Rector of the Maryknoll Junior Seminary at Los Altos, California, where he remained for two years prior to his assignment to special studies in accounting at Pace University, New York City, in 1949.
After completing his accounting studies, Father Manning was appointed Treasurer General effective January 1, 1952 and remained in that post for two terms until, at his request, a successor was appointed. He was named Assistant Treasurer in March of 1962 and remained in that position until his death. In March of 1999 Father Robert Reiley interviewed Father Manning for the Maryknoll News. The article stated "Having served the Church and Maryknoll in many responsible positions, 47 of those years in the Treasury Department, Father Manning is still enthusiastic about his work. Ending the interview Father Manning said, with a smile "I'm happy here and I'll stick it out as long as I can."
Father Manning was a man who loved his priesthood and being a missioner. The Eucharist and his daily prayer life were central to his faith. Father Manning's years of ministry and service in the U.S. made it possible for so many generations of Maryknoll priests and Brothers to serve overseas in mission. Everyone who knew Father Manning had great respect and admiration for him and he will be missed by many as brother priest, missioner and friend.
Wake services were held on Wednesday, August 16, 2000 at 7:00 p.m. at St. Teresa's Residence and 7:30 p.m. in Queen of Apostles Chapel where Father Richard Baker officiated and Brother Donald Miriani read the biography. Mass of Christian burial was concelebrated at Queen of Apostles Chapel on Thursday, August 17, 2000 at 11:00 a.m. Father Richard Callahan was principal celebrant and Father Charles Huegelmeyer was homilist. Burial followed at the Maryknoll Cemetery with Father Jeremiah Burr conducting the graveside service.