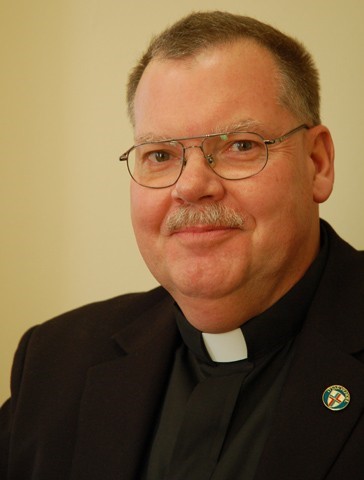 Father Edward J. McGovern, MM
Born: August 5, 1955
Ordained: June 12, 2004
Died: February 26, 2021
Father Edward J. McGovern, M.M. died on February 26, 2021 at the Maryknoll Society Center in Maryknoll, New York.  He was 65 years old and a Maryknoll priest for 16 years.
Edward Joseph McGovern was born in the Bronx, New York on August 5, 1955, the youngest child of Edward J. and Mary Ward McGovern.  He had two older brothers and a sister.  He attended St. Anthony's Grammar School in the Bronx and graduated from Regis High School.  He held a Bachelor's Degree from New York's Fordham College, a Juris Doctorate from Fordham University School of Law, and a Master of Divinity degree from Catholic Theological Union, Chicago, Illinois.  He entered Maryknoll in August 1998 and was ordained on June 12, 2004 by Stephen Cardinal Kim of Seoul, Korea.
Before joining Maryknoll, Father McGovern was an Assistant District Attorney for the Bronx County District Attorney's Office, then an Assistant Attorney General for the New York State Department of Law, in the Criminal Prosecutions Bureau.  From 1991 to 1996, he worked as an Assistant District Attorney, Deputy Bureau Chief at the Queens County District Attorney's Office in the Arson, Economic and Environmental Crimes Bureau.  In reflecting on the years he worked with Father McGovern, a former boss and friend said:  "I hired you twice and never regretted it; you have been my friend…and my priest."
Father McGovern made a mid-life change that took him from a successful law career in New York City to the work of serving the poor as a Maryknoll priest in Cambodia.  In explaining his career change, he said, "Coming from a family with a strong devotion to foreign mission, and as a longtime Maryknoll benefactor myself, I was drawn to join Maryknoll in representing the U.S. Church overseas."
While he was a seminarian at Catholic Theological Union, Father McGovern joined St. Benedict the African parish in Chicago for a practicum.  No corner of life there was untouched by his loving service.  He bagged groceries, cooked up food for Thanksgiving dinners, and delivered them to the senior citizens whom he loved with unabashed enthusiasm.  His diaconate ordination was celebrated at St. Benedict's.  The joy and pride of the people reached to the ceiling of the church, which was filled with music and singing.
After ordination, Father McGovern's first mission assignment was to Cambodia in 2004.  He served as Co-Director of the Maryknoll HIV/AIDS program in Phnom Penh and greater Kandal Province.  He also served as Assistant to the Project Manager of Maryknoll's Seedling of Hope Project from 2004 to 2006, and then became Project Manager, serving nearly 800 adults with HIV/AIDS as well as some 475 of their dependent children, most of whom were HIV positive.  He made daily visits distributing medicine and offering pastoral care to clients at the Maryknoll hospice and group homes, as well as visits to patients at public government hospitals.  At the same time, he co-managed Maryknoll's Little Folks Project for an additional 600 dependent children, many of whom were orphans.
One of Father McGovern's colleagues from Cambodia remembers her years working with him:  "Father Ed was everywhere.  He was a fountain of generosity, a boundless unlimited flow of warmth, encouragement, kindness, compassion and care, knowing and appreciating the patients individually, taking from his own personal resources to supplement what Seedlings could give them formally.  His loving energy supported and inspired everyone he touched, including those who worked close with him. Both in his presence and by example he was a profound source of inspiration, enrichment, and example. Very much in the way that our patients did, I have been amazed at having had the gift of his presence, kindness and love for so many years."
In November 2007, Father McGovern was elected as an Official Delegate from the Asia Region to the Twelfth General Chapter by the Asia South Local Group.  Representatives to the Twelfth General Chapter elected him to serve on the General Council as Secretary General, from November 2008 to 2014.  From 2009 to 2013, Father McGovern served on the Board of Friends of Reach Out (FORO), a U.S.-based fundraising organization for community-based HIV/AIDS programs in Uganda.  In this position he followed Maryknoll Father John Barth and thus maintained the close relationship between FORO and Maryknoll.
After finishing his term as Secretary General in 2014, Father McGovern was assigned to the United States Region and served as Director of Mission St. Teresa's from 2015 through 2018.  He served as Superior of the Senior Missioner Community from March 2018 through December 2019.  From 2018 to the present, Father McGovern maintained close contact with the ongoing work to help those suffering from HIV/AIDS in Uganda.  This led him to be actively involved in helping the absolute poor through Rays of Hope Hospice Jinja, a community based organization serving poor people with cancer and severe HIV/AIDS in Busoga Region in Uganda.
A Mass of Christian Burial was celebrated in Queen of Apostles Chapel on March 3, 2021.  Father Raymond Finch was Principal Celebrant and Father Lawrence Lewis was homilist.  Brother Wayne Fitzpatrick read the biography and Brother Brendan Corkery read the Oath.  Burial followed in Ferncliff Cemetery, Hartsdale, New York with Father Lawrence Lewis conducting the graveside service.