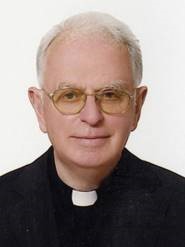 Father Edward J. Whelan, MM
Born: September 16, 1934
Ordained: June 10, 1961
Died: January 16, 2023
Father Edward J. Whelan died on January 16, 2023 in the Assisted Living Unit at Maryknoll, New York. He was 88 years old and a Maryknoll priest for 61 years.
Edward Joseph Whelan was born in Chicago, Illinois to Edward and Julia McLennan Whelan on September 16, 1934, the youngest of four children. He attended St. Angela Elementary School and St. Ignatius High School, both in Chicago. Edward entered Maryknoll in September 1952 at Maryknoll College in Glen Ellyn, Illinois where he earned a degree in Philosophy in 1956. Father Whelan was ordained at Maryknoll, New York on June 10, 1961.
Father Whelan continued his studies, earning a Master of Arts degree in English from Catholic University in Washington, D.C. in 1963. He taught English at Maryknoll College in Glen Ellyn, Illinois in 1963-1964 and again in 1970-1971. He taught English at Maryknoll Junior Seminary (Venard) in Clarks Summit, Pennsylvania from 1964 through 1966. From 1966 until 1972 he pursued doctoral studies at St. Louis University, where he earned his Ph.D. in English in 1972.
On July 1, 1972 Father Whelan was assigned to the Korea Region, and, after one year of language training in Seoul, he worked principally in the Diocese of Cheongju. The first ten years were spent in a combination of pastoral work and college-student ministry. From 1974 until 1981 he was pastor of Nae Su Parish. During this time he also taught English literature at Chungbuk National University and was chaplain to the Catholic student club of this school.
In 1981 he left those ministries and prepared himself to work with people with mental disabilities. One year later he began Galilee House, an early childhood special education center in Cheongju City. While director of this program he met Jean Vanier, the founder of L'Arche and Faith and Light communities. Father Whelan was influential in introducing Faith and Light communities into Korea. By 1992 Galilee House was established well enough to be turned over to the Handmaids of the Sacred Heart, a community of Korean Sisters who had worked at Galilee House since its inception. They continued and expanded this work.
In February 1992 the Korea Region sent Father Whelan to northeast China as an English teacher at Yanbian Agricultural College in Longjing. After teaching there for two years he was invited by the Yanbian Disabled Persons Federation to establish an early childhood special education center in Yanji. He worked at Sunrise House for four years and then turned the direction of the center over to the Sisters of Charity of Seton Hill (Korea Province). In 1998 he returned to teaching English in Yanji City until 2002. Almost every Sunday during his ten and a half years in China he offered Mass for the Catholics of Yanji Parish or at one of the more than twenty mission stations attached to the parish.
Before returning to Korea in 2002 he spent three months as an assistant at L'Arche Daybreak in Toronto. When he returned to Korea he was invited by the Bishop of Cheongju to take up residence in the diocese as a senior priest. Although Maryknoll granted him retired status in January 2006, in November 2009, he opened Peace and Joy Center, a day care program for adults with severe mental disabilities, and he continued to offer daily help to the staff of this center.
After returning to the United States for medical reasons in 2014, Father Whelan was able to return to Korea in February 2015 and resided in Cheongju.
In June of 2022, Father Whelan returned to the Society Center in Maryknoll, New York and was assigned to the Senior Missioner Community.
Father Whelan is survived by his nephews; Vincent Kelley and Michael Kelley, and his niece Sheila Smock. Father Whelan was pre-deceased by his sisters, Sister Mary Sebastian, S.P., and Sue Kelley, and his brother Vincent.
Wake services were held on January 20, 2023 in the Holy Spirit Chapel and the Queen of Apostles Chapel at the Maryknoll Society Center. Mass of Christian Burial followed at 11:00 a.m. and was concelebrated in the Queen of Apostles Chapel. Father James Najmowski was the Celebrant and homilist. Father Richard Rolewicz read the biography and Father Alfonso Kim read the Oath. Per Father Whelan's wishes, he was cremated following the funeral Mass and his cremains were placed in the Maryknoll Columbarium.