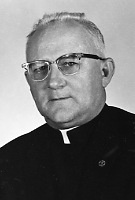 Father Edward L. Condon, MM
Born: October 23, 1915
Ordained: June 21, 1942
Died: February 26, 1983
Father Edward Leo Condon, of the Ordination Class of 1942, died peacefully at St. Teresa's Residence early on the morning of February 26, 1983. Two of his sisters were with him when he died.
After ordination on June 21, 1942, Father Condon was one of five priests assigned to Maryknoll's work in Hawaii. During the first term in Hawaii most of Father Ed's apostolic work was in the Sacred Heart Parish where he worked energetically and was well liked by the people. Throughout his various assignments, both in Hawaii and in the United States mainland, he was always an example of a dedicated priest and missioner.
In 1947 Ed returned from Hawaii suffering from an chronic illness. He was able, however, to take on a number of Society assignments in the coming years which he fulfilled with dedication and faithfulness. During the years 1948-1951, he was Spiritual Director for students at our house in St. Louis. Prior to returning to Hawaii in 1952 he served one year on the Venard Faculty. From 1952 to 1956 Father Condon served in various mission parishes in Hawaii. Reassigned to the Venard in 1956, he took on the responsibilities of Professor, Spiritual Director, Procurator and he was also a Consultor to the Rector. During this time he also took studies in Education at Scranton University. When the Venard was closed, Father Condon was assigned to Chesterfield. In 1967, however, due to declining health, he was assigned to St. Teresa's Residence, where he remained until his death.
Father Condon was born in Central Falls, Rhode Island, on October 23, 1915, the first child of Edward Condon and Agnes Duffy. He attended Holy Trinity grammar school in Central Falls and later St. Joseph's in Pawtucket. It was during these years that his first interest in mission work was stimulated by reading the two mission magazines, The Far East and The Field Afar.
Receiving a scholarship upon graduation from St. Joseph's, he attended four happy years of high school at St. Raphael Academy, Pawtucket, then entered Providence College. While there he was urged by certain professors to consider a vocation as a missionary priest. He applied to and was accepted for Maryknoll in 1935.
The Wake Service took place Monday evening, February 28, with Father Delbert Goodman (who worked with Ed in Hawaii) officiating. Mass of Christian Burial was celebrated the next day – Principal Celebrant was Father Arthur Brown and Homilist Fr. William Frazier. Fr. Eugene Toland conducted the service at the gravesite.
Those of us who knew Father Ed, particularly during these recent years at St. Teresa's, remember his determination and faith in the midst of his illness. His life recalls for us the words of Paul to the Corinthians: "While we live in our present tent we groan; we are weighed down because we do not wish to be stripped naked, but rather to have the heavenly dwelling envelop us, so that what is mortal may be absorbed by life. God has fashioned us for this very thing and has given us the Spirit as a pledge of it." (2 Cor. 5:4-5)