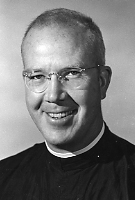 Father Edward M. Baskerville, MM
Born: December 13, 1913
Ordained: June 13, 1953
Died: November 13, 1975
Father Edward M. "Doc" Baskerville died today, November 14. He had been at the Center since October 1, 1975, and had been hoping to work with the Office of Society Personnel on one of his great interests, formulating proposals for the Retirement Policy of the Society.
Father Baskerville was born in Symerton, Illinois, December 13, 1913. He studied at DeLaSalle High School and Joliet Junior College, and received a B.S. in 1936 and an M.D. in 1937 from Saint Louis University. For some five years he was in private practice as a physician and surgeon in Wisconsin Rapids, Wisconsin. Serving in the U.S. Army Air Corps during World War II, he attained the rank of Major, and during 22 months in the European Theatre of Operations, aided in the evacuation of wounded from combat territory.
"Doc"joined Maryknoll in September 1947, was trained at Bedford and Maryknoll Seminary, and ordained June 13, 1953. Assigned to Musoma, Tanganyika (now Tanzania), East Africa in 1953, he served various pastoral assignments and for a time as a registered medical practitioner. From April 1959 until early 1961, he did Development work and made medical contacts in the U.S. In 1961-62, he was a Director of Catholic Relief Services in Tanganyika. In May 1968, he was assigned to help set up St. Teresa's Residence at Maryknoll. From September 1970 until mid-1975, he was assigned as Assistant to the Superior at Los Altos, California (Mt. View).
A Vigil Service was held for Father Baskerville in the Maryknoll Chapel at 7:30 p.m., Monday, November 17. Mass of the Resurrection was concelebrated at 11:45 a.m. on Tuesday, November 18, in the Maryknoll Chapel. Burial followed in the Maryknoll Cemetery.