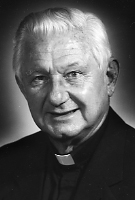 Father Edward M. Wroblewski, MM
Born: May 23, 1925
Ordained: June 14, 1952
Died: April 16, 2014
Father Edward M. Wroblewski died on April 16, 2014 at Phelps Memorial Hospital, Sleepy Hollow, NY.  He was 88 years old and a Maryknoll priest for 61 years.
Edward Michael Wroblewski was born on May 23, 1925, in Brooklyn, New York, one of eleven children of Adam Lawrence and Stanislawa Lewandowska Wroblewski.  He attended Our Lady of Consolation Parochial School and graduated from Cathedral College Preparatory Seminary in 1945.  He entered Maryknoll Seminary in Ossining, New   York for First Philosophy class on June 20, 1945.  He attained his Bachelor of Arts degree in Philosophy and a Bachelor of Arts degree in Scripture and was ordained a priest at Maryknoll Seminary on June 14, 1952.
After ordination, Father Wroblewski was assigned to special studies at the Catholic University of America, Washington, DC and received his Master of Arts degree in Speech in June of 1953.  He was assigned to the faculty of Maryknoll College, Glen Ellyn, Illinois and served there for four years as Professor of Speech and Director of Athletics.  On June 9, 1957 Father Wroblewski was assigned to the Maryknoll Mission in the Apostolic Prefecture of Musoma, Tanganyika, East Africa.  He served as Assistant Pastor of the Musoma Parish and engaged in the study of the Kiswahili and Kijita languages for three years.  In 1960 he served as Headmaster of the newly established mission secondary school called MusomaCollege.  He later served as Pastor of the Bunda Parish in the Musoma Diocese and of the City Parish in the Arusha Diocese.  From 1969 to 1971 he was chaplain and taught religion at the various secondary schools in the Musoma Diocese.
In 1975 Father Wroblewski was assigned to the U.S. Region and appointed to the Development House in Detroit, Michigan.  He did development work in the various Polish parishes in Michigan and also taught for one year at St. Mary's School in Orchard Lake, Michigan.  On June 27, 1977 he was transferred to the Maryknoll School of Theology in New York to serve as an adjunct faculty member in the Homiletics Programs. After two successful years of teaching he was formally assigned to the Formation/Education Department on October 2, 1979 and continued as a permanent faculty member.  He took special courses on preaching at the Chicago Theological Union during one summer; and during another summer, special courses on Liturgy at the University of Louvain in Belgium.
Until its close, Father Wroblewski had been Professor of Homiletics at the Maryknoll School of Theology.  He regularly helped out on weekends in the St. Elizabeth Seton Parish, Ridgefield, Connecticut, did prison ministry in the Federal Prison in Danbury, Connecticut and worked with the Engaged Couples Encounter weekend retreats.  Father was assigned to the Retirement Community in June 1999 but continued to work in these ministries and assist in parishes on the weekend.
Wake services were held at 4:30 p.m. on April 25, 2014 at St. Teresa's, and at 7:30 p.m. in Queen of Apostles Chapel at Maryknoll Center where Father Kenneth Sullivan officiated and Father Edward Davis read the biography.  Mass of Christian Burial was concelebrated in Queen of Apostles Chapel on April 26, 2014 at 10:00 a.m.   Father John Keegan was Principal Celebrant and Father Thomas Ahearn homilist.  Burial followed in Maryknoll Society Cemetery with Father Paul Masson conducting the graveside service.