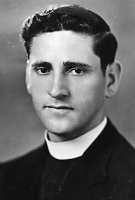 Father Edward P. Brophy, MM
Born: October 14, 1915
Ordained: February 7, 1943
Died: August 7, 1978
Fr. Edward P. Brophy (Central American Region) died suddenly in Campeche, Mexico at 5 p.m., Monday, August 7. Fr. Brophy was in Campeche visiting his 1943 classmate Fr. J. Gerard Greene.
Fr. Brophy was born in Paris, Kentucky, on October 14, 1915. After studies at St. Peter's School in Lexington, KY, and the Lexington Latin School, he joined Maryknoll in September 1933. He studied at the Maryknoll Junior Seminary in Cincinnati, the Venard, Bedford and Maryknoll, N. Y., and was ordained February 7, 1943. He spent several months in 1943 in Puno, Peru, but was back in the U. S. working at the Akron House from early 1944 through 1946. From 1946 until 1953, he worked in Chile, the final year in Chile as Pastor at San Gregorio in Chillan Diocese.
Assigned to Guatemala in 1954, he worked in the Central American Region until the time of his death, almost all of that time in Huehuetenango, at the Cathedral there, as a Hospital and Prison Chaplain, and at the Center House in Huehuetenango. Fr. Brophy is remembered as an affable, sociable and kind man.
After Mass in Merida, Yucatan, Mexico, on Tuesday, August 8, Fr. Brophy was buried in the Maryknoll niche in the Merida Cemetery. Msgr. Leo Wilson, who taught Fr. Brophy some 50 years ago, celebrated Mass for Fr. Brophy at 12 noon on Tuesday, August 8, at the "home" parish, St. Peter's, 153 Barr St., Lexington, KY. Mass was also concelebrated for Fr. Brophy at noon on Thursday, August 10, at the Maryknoll Chapel, Maryknoll, N. Y., with Fr. Brophy's 1943 classmate Fr. Joseph Rickert as Principal Celebrant and Homilist.